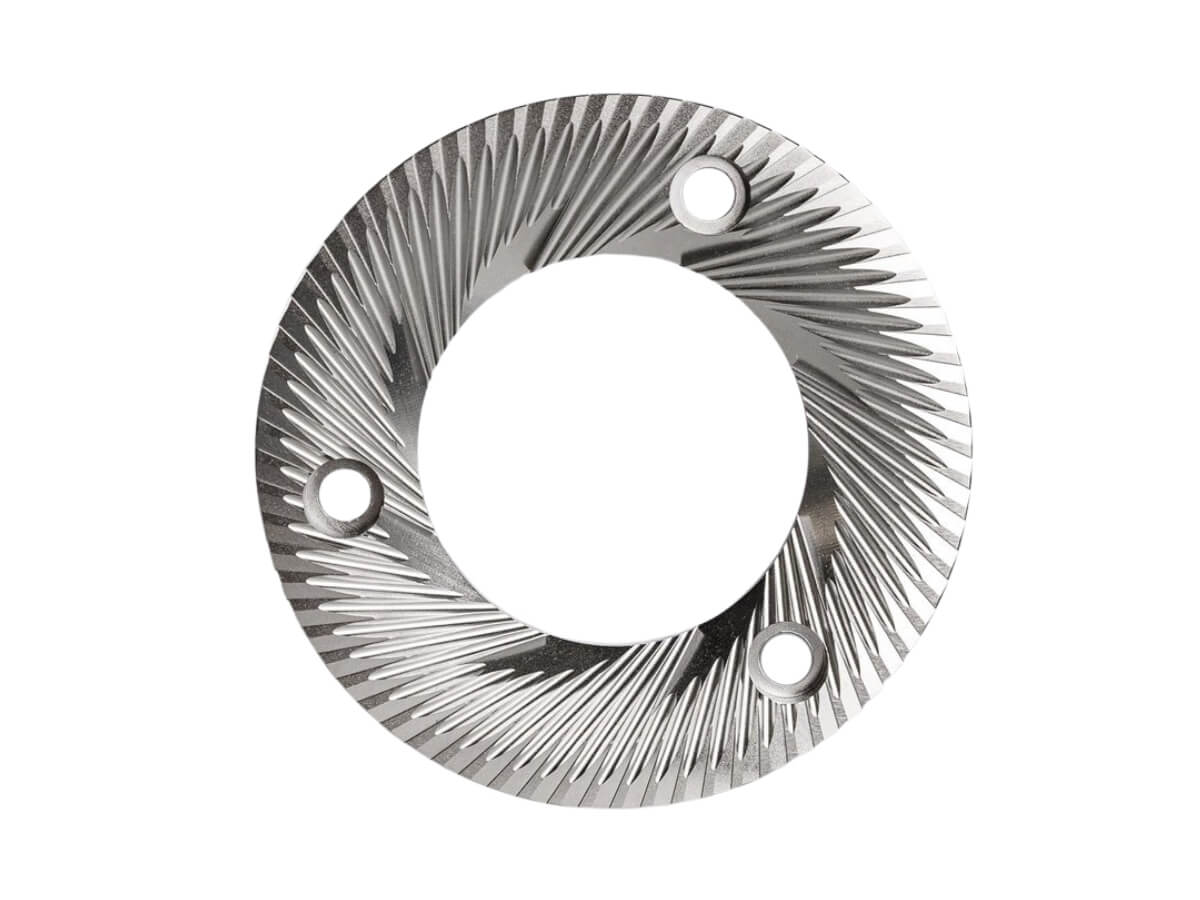 Option-O | Mizen Omni 98mm Flat Burrs
Description
Details
Other Info
Smooth Sailing

The culmination of years of research and experience with premium burr sets and their own iterative design, Option-O's Mizen burrs have been developed to serve a key role in determining the performance of their grinders—just as the mizzenmast does for a ship.

Working from a classic geometry as their foundation, the 98mm Mizen Omni burrs—with a proprietary finishing process providing unique surface properties to further accentuate the potential cup quality—have been developed to excel in fine grinding for espresso use as well as coarser grinding for pour over and other brew methods.

Yielding a grind distribution and corresponding profile that provides an approachable and enjoyable cup, the Mizen Omni burrs showcase flavour separation with good clarity, refined acidity, and moderate body & mouthfeel within a noticeably sweet & juicy cup, and are best suited for those seeking an all-purpose burr set to express the terroir of medium to light roasts in its purest form.

Features

Hardened stainless steel 98mm flat burr set; compatible with Option-O Lagom P100 and 01 Grinders.

Each burr is flat ground to a 0.005mm (5 micron) specification and finished with a propietary treatment process to provide them unique surface properties to maximise the potential of their grind quality.

Profile notes

When used for espresso, the Omni burrs provide an approachable, well-balanced, clean and sweet cup of espresso with good/high clarity. The body is moderate, on par with other 98mm burrs, and slightly higher than what you would get with most modern brew-focused big flat burrs. It also has a moderately broad sweet spot, making it relatively forgiving to dial in.

When used for coarser grinding (e.g. pour over or immersion brew), the Omni burrs produce a highly uniform grind with relatively low fines, producing complex cups that are balanced, juicy, and clean, with refined acidity supported by sweetness and a satisfying mouthfeel with minimal astringency.

Engineered in Australia

Made in China

About Option-O

Comprised of a team of engineers-turned-coffee-enthusiasts, Option-O has a simple mission: to create beautiful grinders that last and make delicious coffee.

Based in Australia's coffee capital, Melbourne, with their own independently operated workshop in China, Option-O's end-to-end control over the design and manufacturing process allows them to ensure that each and every grinder they produce meets their lofty standards and will satisfy even the most demanding of baristas.

Use & Care

Regular cleaning will keep your grinder running smoothly and tasting fresh. Burrs are easily accessed without tools, and can be cleaned with a dry brush and/or commercially available grinder cleaning pellets.