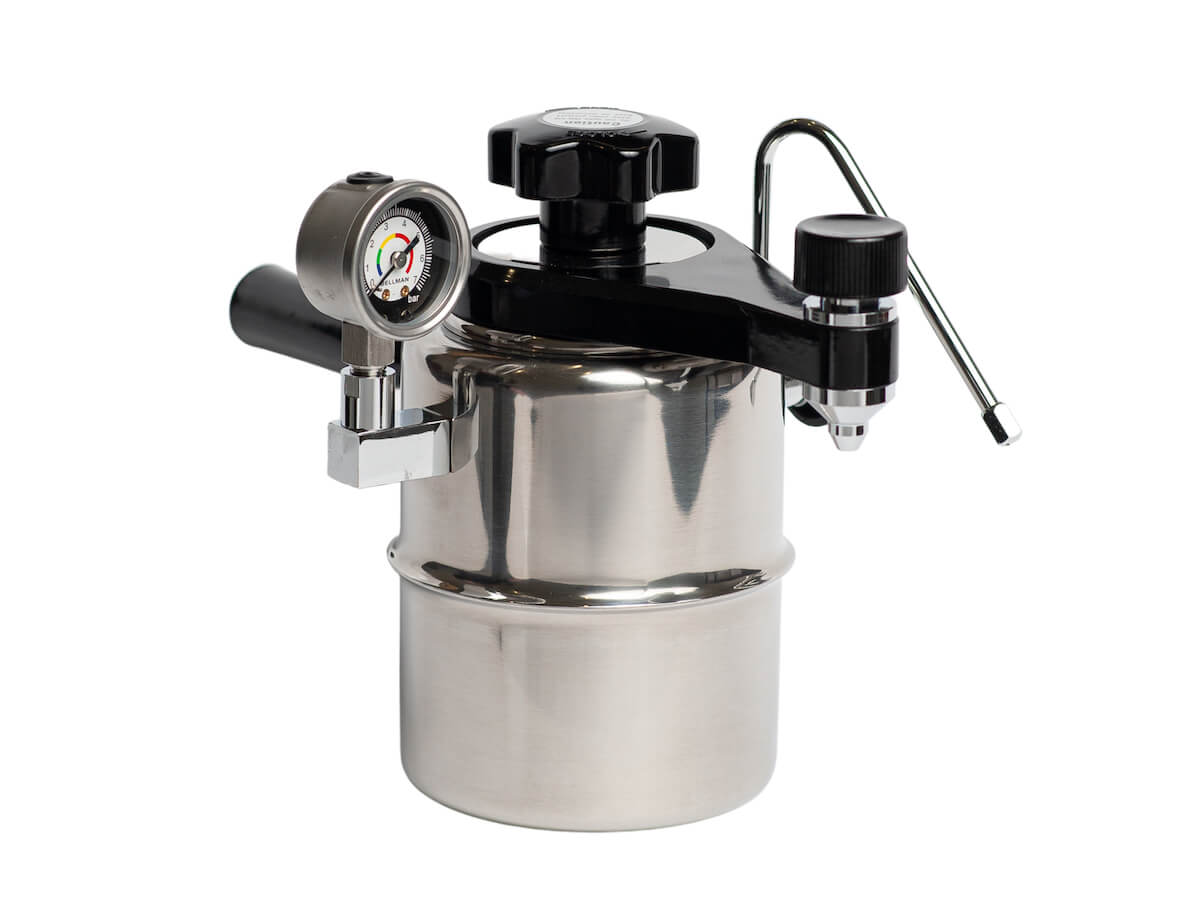 Bellman | Stovetop Espresso Maker & Steamer w. Pressure Gauge
Description
Details
Other Info
STOVETOP BARISTA

Producing rich, crema-topped moka pot coffee in combination with their legendary steaming power, Bellman's CX25P Espresso Maker & Steamer is the all-in-one tool for producing barista-quality espressos, cappuccinos and lattes—with the added feedback and precision of its integrated pressure gauge, so you can brew with confidence and consistency.

Brew 3, 6 or 9-cups of stovetop espresso, to be enjoyed as is or topped with silky smooth micro-foamed milk for a luxurious beverage that can rival your favourite café—all from the comfort of your home, or anywhere you go.

FEATURES

Brews 3, 6 or 9-cups of stovetop espresso; water levels are indicated in the interior chamber, with an included brew basket reducer for corresponding coffee levels.

Steam like a professional barista: produce creamy micro-foamed milk with the 2-hole nozzle steam wand.

Monitor the integrated pressure gauge to know just the right moment to start and stop your brew, and when you're ready to steam your milk.

Easy to use: just add coffee/water, place over heat, and when sufficient pressure is built up, release pressure via the coffee valve to brew coffee and/or through the steam wand to heat & foam your milk.

Plenty of brewing capacity and steam power to produce multiple lattes; can equally be used solely for coffee or solely for steaming.

Equipped with a pressure release valve (activated at 20psi) to prevent dangerous buildup of pressure.

Compatible with gas & electric cooktops; induction cooktops must be compatible with with non-magnetic 304 grade stainless steel, or require an Induction Converter/Adaptor Plate.

Durable construction: robust and built to last.

MATERIALS

304 grade 18/8 Stainless steel w. Bakelite handle & knob.

DIMENSIONS

Dimensions: L10.5" x W6" x H7.75" | L26.5cm x W15.25cm H20cm

Made in Taiwan

ABOUT BELLMAN

Since 1984, Bellman has been dedicated to the design and production of high-quality coffee brewing equipment. Particularly renowned for their classic stovetop espresso & cappuccino makers—and the home barista favourite stovetop steamer—they manufacture and test each and every unit for quality from their headquarters in Taiwan before sending on to be enjoyed by coffee lovers everywhere.

USE & CARE

Please refer to the Bellman Stovetop Espresso Maker & Steamer User Guide. Latte art may require practice.

WARRANTY

The Bellman Stovetop Espresso Maker & Steamer carries a 1-Year limited manufacturer's warranty.