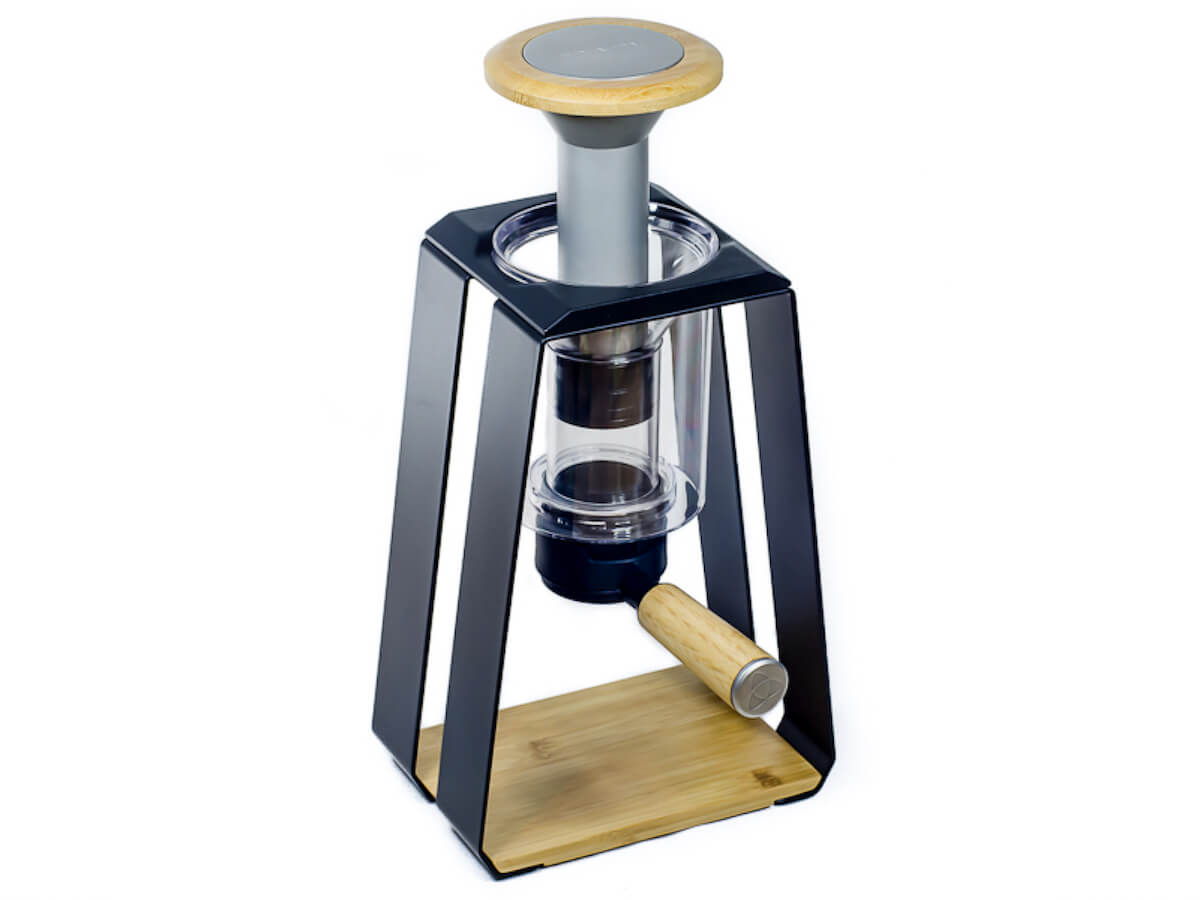 Trinity | ONE - Black Edition
Description
Details
Other Info
MADE FOR SPECIALTY COFFEE

The Trinity ONE is an award winning design, and the first high quality specialty coffee appliance to combine press, drip and immersion brewing techniques. Offering unparalleled versatility and superior consistency by way of its unique weighted cylinder press, the Trinity ONE Brewer is an exquisitely beautiful device that brings out the best in any coffee.

Trinity's current production model, the Black Edition features a black carbon steel stand with sustainably sourced natural bamboo accents. The new model also includes an improved ball valve flow controller, and a built-in stainless steel filter disk, which produces remarkably clean filtering results thanks to Trinity's non-bypass filtering design.

FEATURES

Brew multiple methods, including pour over, gravity press, and immersion (hot or cold) methods on one specialised device—plus cold-drip and mini-batch brewing with the Brew Kit including Origin Decanter—and declutter your brew bar.

Black Edition features a matte black carbon steel frame with sustainably sourced bamboo accents.

Improved ball valve flow controller with handle-twist activation

Built-in 180-micron 304 Stainless Steel filter disk, which produces remarkably clean filtering results on its own, or can be combined with standard AeroPress sized paper filters for even greater clarity.

Individually cast 2.25kg (5lb) weighted cylinder press provides gravity-fed pressure for unsurpassed brewing consistency and repeatable results.

Brew chamber is composed of moulded Tritan—an extremely durable BPA-Free material—to meet the pressure and temperature demands of brewing great coffee.

Drip cone fits Chemex or 4-Cup cone-shaped filters (V60-02).

Chamber has max volume of 500ml for immersion, press or cold-drip/mini-batch (Brew Kit only) methods—brews 1-2 cups.

DIMENSIONS

L9" x W5.9" x H13.6" | L23cm x W15cm x H34.5cm

Filter base to stand clearance is 4.75"|12cm; sufficient for most cups or a 2-Cup Coffee Server.

Allow for an extra 12"|30cm clearance for use with weighted cylinder.

Designed & Engineered in Brisbane, Australia

Made in China

ABOUT TRINITY

Trinity Coffee Co. was founded by Mark Folker, in Brisbane, Australia. A passion for brewing better coffee—expressing its terroir and true flavour potential, and enhancing the brewing experience for professional baristas and average users alike—led Mark to design and develop the Trinity ONE brewer.

Successfully funded on Kickstarter in June 2015, it is the first and only high-quality all-in-one specialty coffee brewing appliance.

USE & CARE

Trinity has some tremendously helpful brew guide videos to help get you started. For additional guidance and general use & care instructions, please refer to the Trinity ONE Brewer User Guide.

WARRANTY

1-year limited manufacturer's warranty.