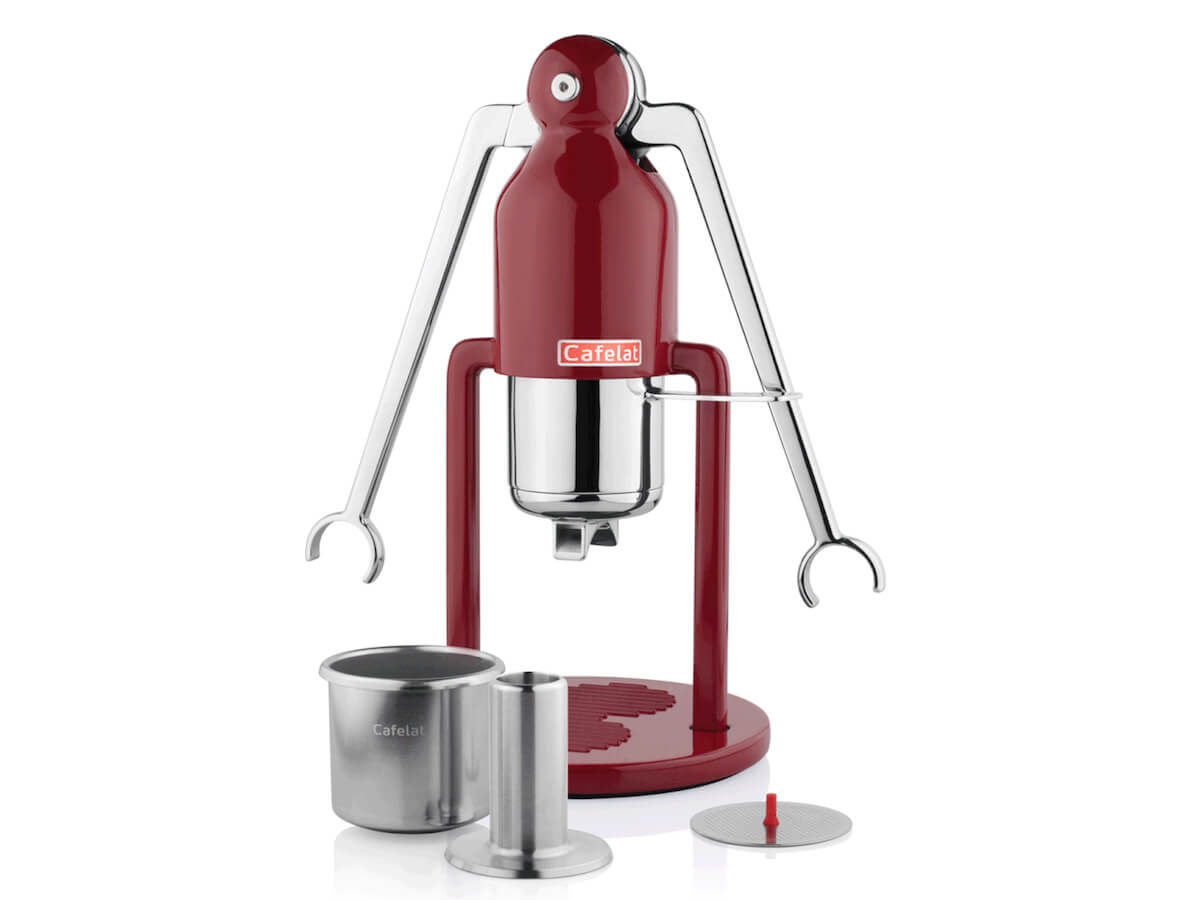 Cafelat | Robot - Red
Description
Details
Other Info
RETRO AESTHETIC, MODERN PERFORMANCE

The passion project of Paul Pratt and his obsessive exploration of the mechanics of espresso, the Cafelat Robot incorporates a wealth of engineering expertise while drawing design inspiration from the 1950's to create a lever espresso maker that is as playful as it is powerful.

Beautifully well made, simple to operate, and designed to delight home baristas of all skill levels with exacting performance, the Cafelat Robot is a work of functional art that you can confidently put to use and proudly leave on display.

Available in your choice of powder-coated colour.

FEATURES

Includes everything you need to brew a variety of espresso-based beverages anywhere you can boil water: no need for electricity; not locked in to pods or capsules.

Dual-lever press easily produces 6-10 bars of pressure for true espresso extraction.

Fully manual operation allows total customization of brewing variables.

Extra-deep 58mm stainless steel portafilter doubles as brew chamber; accepts 14-25g of coffee and up to 80ml of water for utmost variability of ratio/recipe.

Completely plastic-free and built to last with high-quality stainless steel, die-cast aluminum frame and FDA approved silicone seals.

CONTENTS

Standard Model

Fully assembled Cafelat Robot main body with arms and base plate; naked portafilter w. new dispersion screen & optional splitter/spout; professional basket; stainless steel tamper; 1 pack of 100 paper filters; silicone tamping mat/cup tray.

DIMENSIONS

6.2lbs | 2.8kg — L9" x W6.3" x H11.8" | L23cm x W16cm x H30cm

Handmade, assembled & tested in Hong Kong

ABOUT CAFELAT

With a vision of creating a range of coffee related products with both professional and household appeal that were the best they could be in terms of function and design, Paul Pratt founded Cafelat in 2008.

Combining a wealth of knowledge and experience with a drive to create new products and manufacturing techniques, Cafelat develops uncompromising products for today's specialty coffee market, with exquisite design and meticulous attention to detail.

USE & CARE

Please refer to the Cafelat Robot User Manual.

For more detailed information and brewing tips, please visit the Cafelat YouTube page or contact us.

WARRANTY

The Cafelat Robot carries a 1-year limited manufacturer's warranty, and is expected to last many years beyond that.