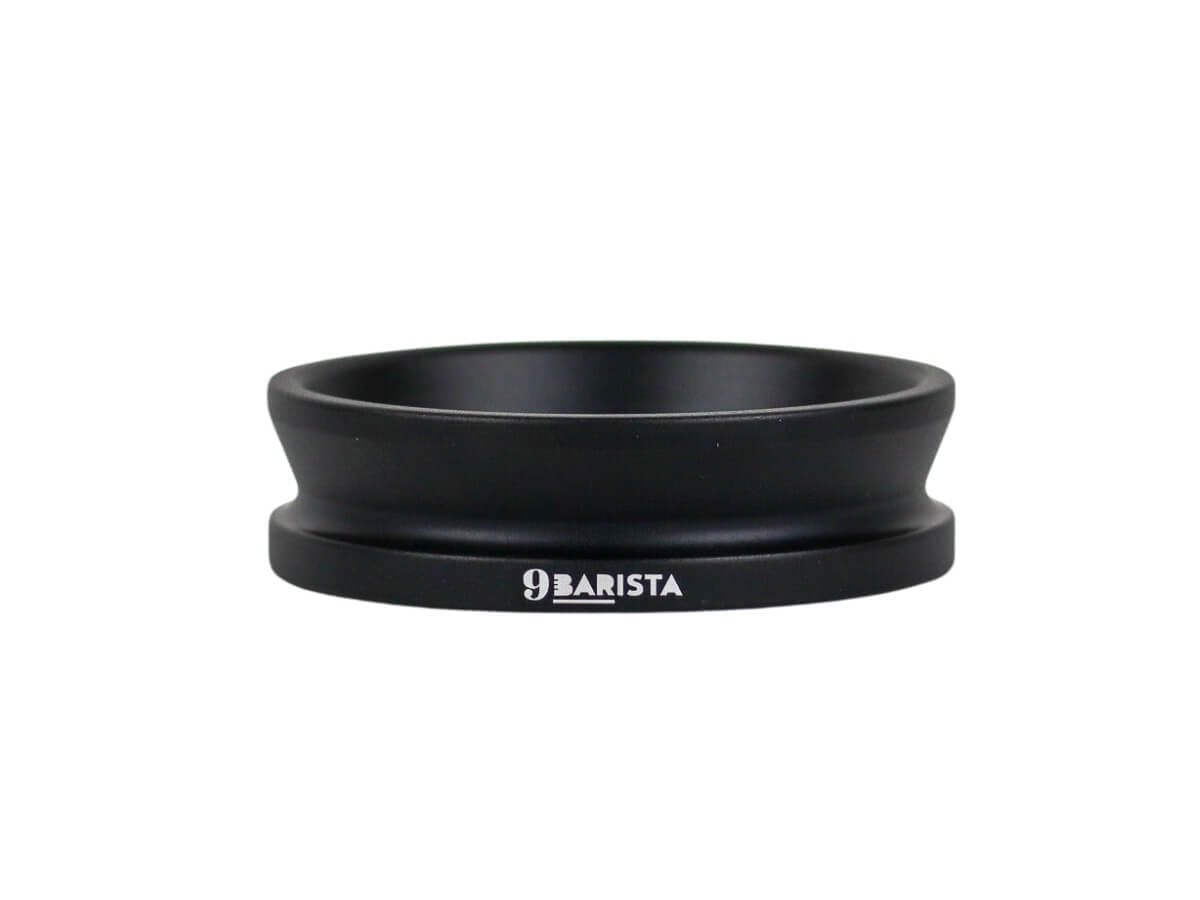 9Barista | 53mm Dosing Funnel
Description
Details
Other Info
Daily Dose

Manufactured from aircraft-grade aluminium, the 53mm Dosing Funnel is tailor made for the 9Barista. Lightweight and durable, it's the perfect way to ensure that your brewing process is neat and tidy, with no wasted coffee grounds.

The 'tamp-through' inner diameter means that you can grind and tamp without needing to remove the funnel, while eight neodymium press-fit magnets keep everything securely in place throughout. The sandblasted, anodised finish provides a smooth and low friction surface to ensure all grounds reach the basket.

Each dosing ring comes in its own 9Barista-branded drawstring cotton-canvas bag.

Features

Aluminium funnel with magnetic attachment ensures clean dosing.

Tamp-through design allows for end-to-end puck preparation with funnel securely in place and keeping all grounds where you want them.

53mm diameter is compatible with 9Barista as well as other 53-54mm portafilters (Breville, Aram, La Spaziale, etc.).

Contents

9Barista Espresso Machine: stainless steel tamper, heat transfer plate, spare safety ring and boiler o-ring.

Designed & manufactured in the United Kingdom

About 9Barista

William Playford, 9Barista's founder, has two great passions in life; jet engines and espresso coffee. He started building jet engines as a teenager and went on to study jet engineering at Cambridge, while his love for good coffee started in Italy and slowly turned from love to something of an obsession.

Realising that top quality espresso machines require the same three elements that jet engines do—high pressures, perfectly controlled temperatures and precision engineered components—William decided that if anyone could engineer a small but perfectly formed home espresso machine, it was him.

Five years later, 9Barista—the first ever jet-engineered stovetop espresso machine—was born.