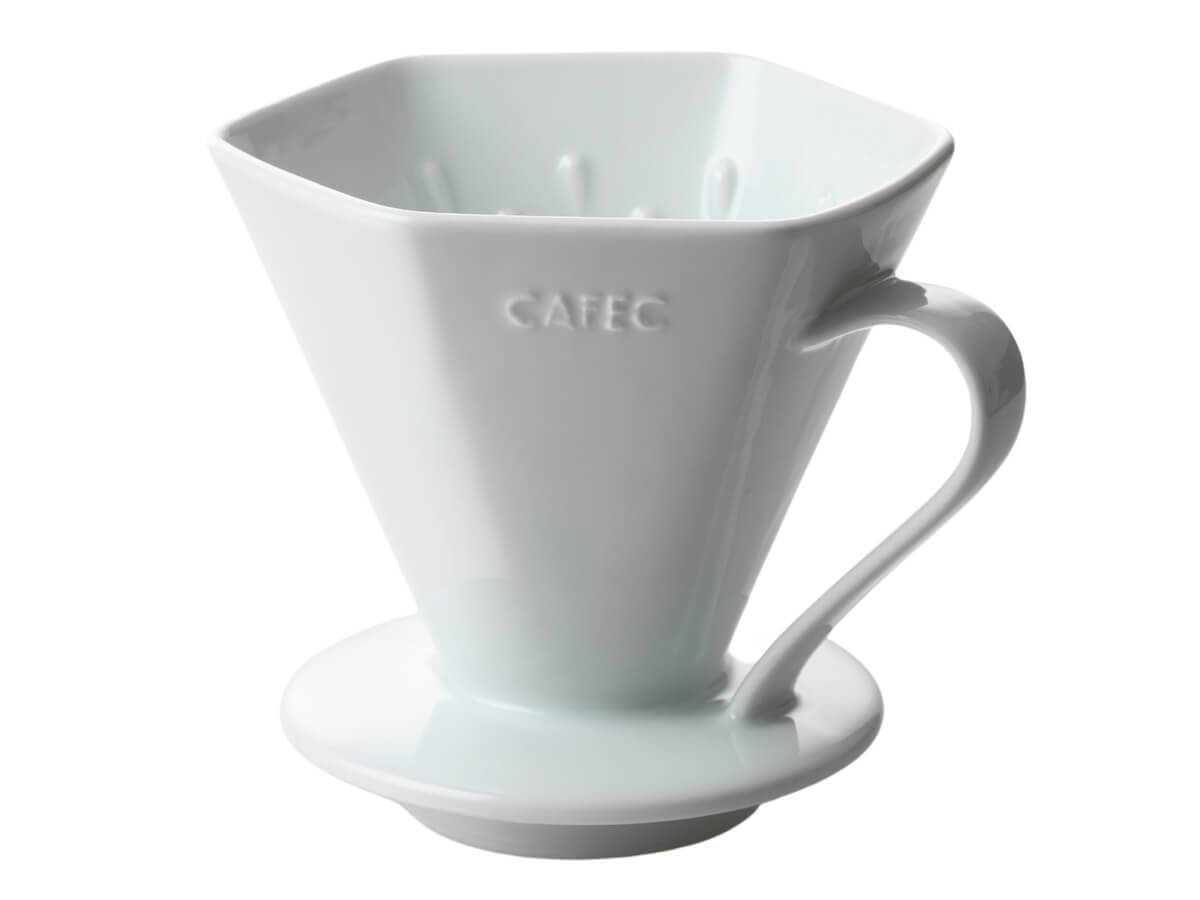 CAFEC | Deep Dripper PRO
Description
Details
Other Info
Deep down

The product of CAFEC's desire to match—or improve upon—the experience of brewing Nel Drip coffee, the Deep Dripper PRO features a narrowed 45° angle and deeper cone shape to form the deepest filtering layer of their pour over drippers.

With a larger capacity to brew 3-7 cups, the Deep Dripper's hexagonal shape and dot ribs ensure a sufficient layer of air to allow coffee to fully expand in the filter while also maintaining a steady flow rate—optimised for CAFEC's suggested osmotic flow brew method to bring out the ultimate flavour in your brews.

Available in your choice of Arita ware Porcelain or Plastic with silicone base.

Features

Narrowed 45° angle produces a deeper cone shape with steeper side walls.

Hexagonal shape and dot ribs maintain an air layer between filter and dripper to maintain optimal flow rate and brew time.

Fits CAFEC Deep 45 Coffee Filters.

Includes measuring spoon and 10 CAFEC Traditional Deep 45 Coffee Filters.

Porcelain model includes easy-grip handle for simplified handling.

Materials

Arita ware Porcelain, or AS resin Plastic with silicone base; polypropylene spoon.

Dimensions

Porcelain — ø5.1" x W5.7" x H4.9" x ø0.85" outlet | ø130mm x W145mm x H125mm x ø22mm outlet

Plastic — ø5.1" x H4.9" x ø0.85" outlet | ø130mm x H125mm x ø22mm outlet

Designed and Made in Japan

About CAFEC

Pioneers of paper coffee filter manufacturing since 1973, Sanyo Sangyo created the CAFEC brand in 2016 to tell their story and to share their passion for hand-drip coffee through the products they provide.

Empowering home and professional baristas with high-quality brewing tools, CAFEC's designs are meticulously studied and crafted to make delicious coffee easier and more accessible to those who enjoy it, and to fill you—and your cup—with happiness in the process.