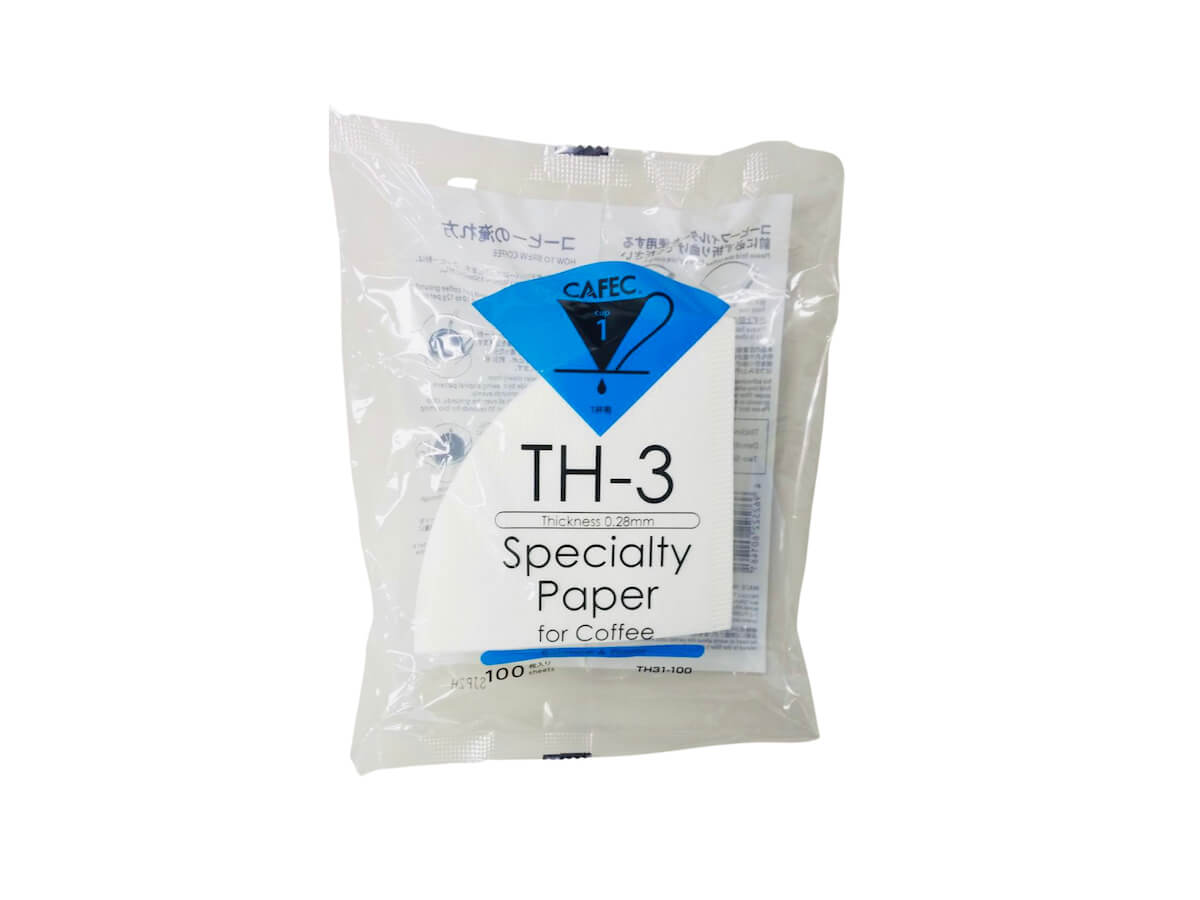 CAFEC | TH-3 Specialty Coffee Paper Filters (100pk)
Description
Details
Other Info
Paper, but not just paper

In their continual pursuit of making delicious coffee easier to brew and enjoy, CAFEC designed a series of paper filters with deliberate compositions to help highlight specific characteristics in your coffee.

Optimised for highlighting balance and flavour, the TH-3 Specialty Coffee Filters feature a two-sided crepe texture and lower density. Together with CAFEC's fine-mesh paper texture, the enhanced surface area of these filters promotes the smoothest flow of water throughout the duration of your brew to yield well-balanced and rich extractions.

Pack of 100 filters.

Available in 1 Cup or 2-4 Cup formats.

Features

Through air drying paper in a flat state (versus rotary drum drying) produces two-sided crepe texturing with maintained crepe height.

Inside crepe enhances total surface area to maintain smooth water path despite fines adhesion; outside crepe maintains a layer of air between filter and dripper to promote steady flow.

Fine mesh paper facilitates stable flow of water with superior clarity in the cup.

T-90 Medium-Dark Roast Coffee Filters are identical to the TH-3 Specialty Paper Filters.

Specifications

Thickness: 0.28mm

Density: Low

Texture: Two-sided crepe (high crepe)

Optimal brewing temperature: 90°C | 194°F

Materials

Virgin pulp.

Made in Japan

About CAFEC

Pioneers of paper coffee filter manufacturing since 1973, Sanyo Sangyo created the CAFEC brand in 2016 to tell their story and to share their passion for hand-drip coffee through the products they provide.

Empowering home and professional baristas with high-quality brewing tools, CAFEC's designs are meticulously studied and crafted to make delicious coffee easier and more accessible to those who enjoy it, and to fill you—and your cup—with happiness in the process.

Use & Care

As with any paper filter, you may optionally rinse through with hot water to remove any remaining paper taste prior to your brew.