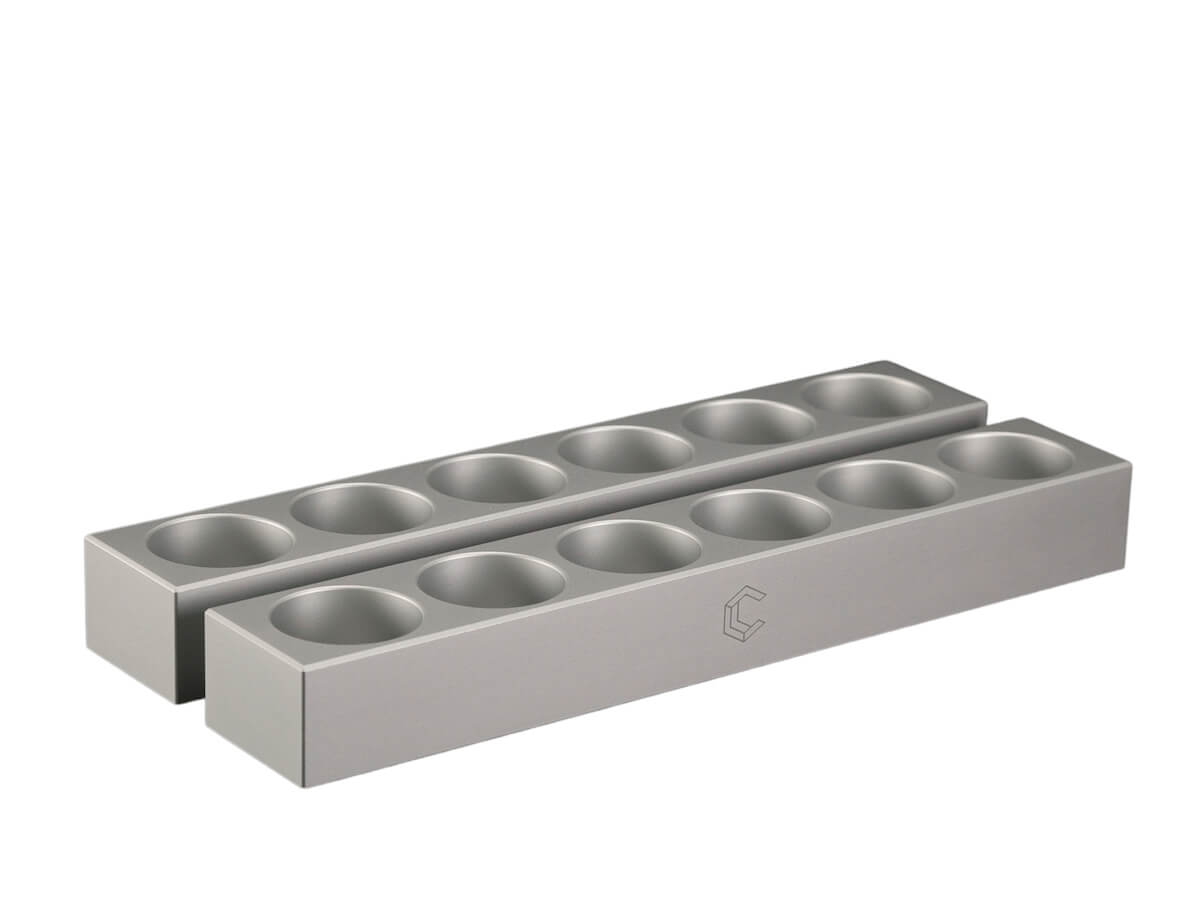 Craig Lyn Design Studio | Bean Vault Bases - 2pcs
Description
Details
Other Info
LOAD THE BASES

Keep your workspace tidy and well organised with a pair of Bean Vault Bases. Minimal by design, the stylish bases accomodate 12 individual Bean Vaults and are made to complement your single-dosing workflow and brew bar in any orientation.

Available in your choice of precision CNC machined and anodised Aluminium or handcrafted Black Walnut wood finish.

FEATURES

Precision CNC machined aluminium bases are finished with a hard wearing anodised surface.

Hardwood bases are handmade in the USA by local craftsmen.

Adaptable 2-piece format allows for customised configuration best suited to your brew bar and workflow requirement.

Each base houses 6 Bean Vaults; set of 2 bases.

Designed & Engineered in the USA

Aluminium bases Made in China

Wood bases Made in the USA

ABOUT CRAIG LYN DESIGN STUDIO

The original HG-1 was designed and manufactured by Craig Lyn and Paul Nahhas in 2012. Since then, the company's taken several forms and partners have come and gone, but their guiding principles have always remained: good design and quality products, without marketing hype or exaggeration.

From this honest approach, and through iterative design with a focus on enriching your coffee brewing experience, Craig Lyn Design Studio produces incredibly well crafted tools with all the features you need and none that you don't.

USE & CARE

Wipe aluminium clean with a damp cloth as needed; do not place in dishwasher.

Wood is a natural material and colour variations are common. Shrinkage and expansion may occur depending on your climate conditions. If you notice any issues with the fit of your Bean Vaults, a light sanding on the inside of the holes will resolve the problem.

Do not immerse wood bases in water and keep away from extreme heat sources. Wipe clean with a dry towel as needed. In the event of stains, rub with a fine sandpaper and reapply a light coating of food grade mineral oil.

WARRANTY

Per their Heirloom Quality Construction guarantee, Craig Lyn Design Studio products are made to last and to be handed down to the next generation.