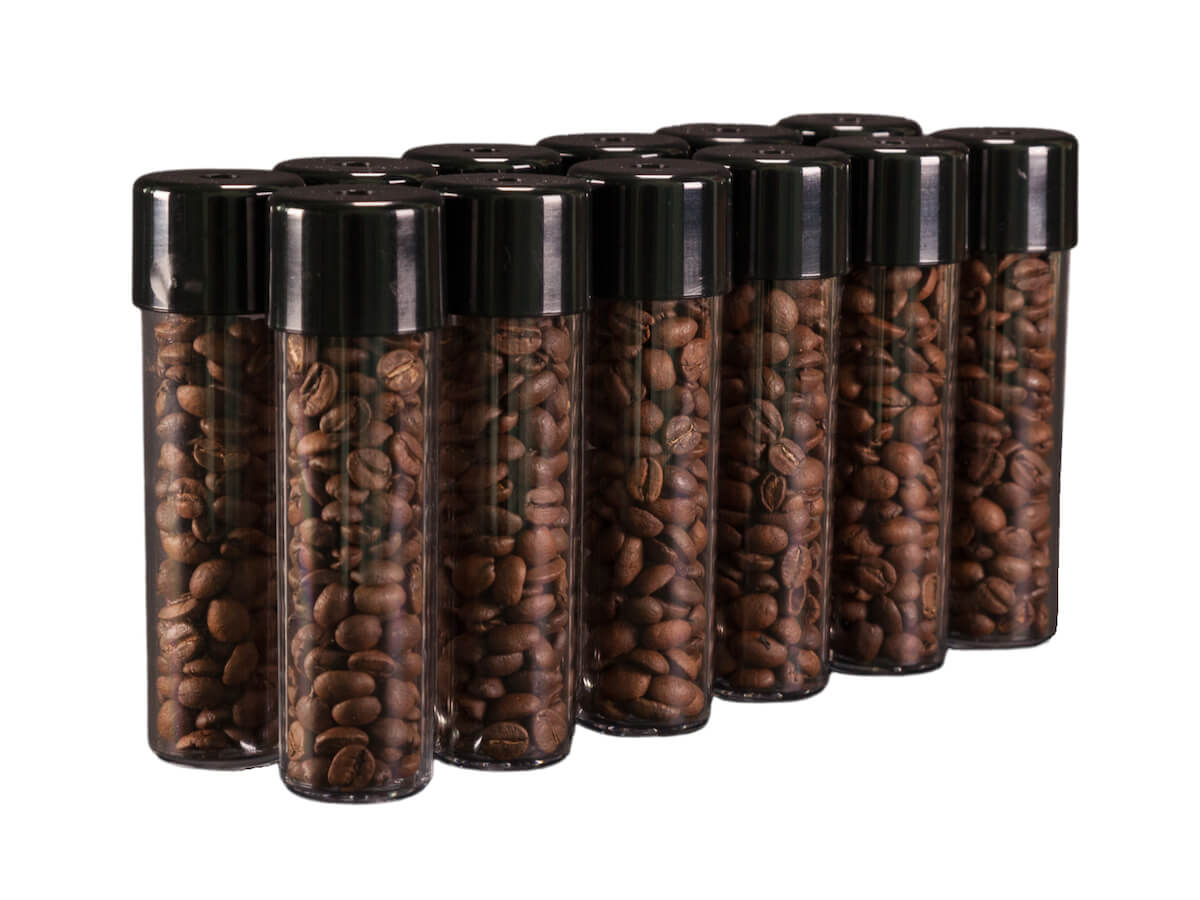 Craig Lyn Design Studio | Bean Vaults
Description
Details
Other Info
FRESHNESS ON DEMAND

Optimised for a single-dosing workflow, the Bean Vaults from Craig Lyn Design Studio preserve the freshness and maintain the utmost potential of your coffee prior to grinding by storing each dose individually.

Simply weigh and store your desired dose in each vault—ready on demand and precisely as you want it. Lightweight and durable, each Tritan vault contains a simple twist & pull lid with one-way silicone degassing valve.

Available as a set of 12 Bean Vaults or as a Bulk Pack of 96 Bean Vaults.

FEATURES

Storing each dose individually is the best protection against oxidation; pre-weighed doses provide for a smoother and more precise workflow.

Vault lids are equipped with a one-way silicone dome valve designed to release accumulated CO2 as coffee degasses.

Hard wearing Tritan vaults are machine washable and made to last with a maintained appearance; lighter weight and more durable than glass.

MATERIALS

BPA, BPS, and bisphenol free Tritan copolyester.

SPECIFICATIONS

Vault Dimensions: ø1.33" x H4.95" | ø3.4cm x H12.6cm

Vault Capacity: 24-30g

Designed & Engineered in the USA

Made in China

ABOUT CRAIG LYN DESIGN STUDIO

The original HG-1 was designed and manufactured by Craig Lyn and Paul Nahhas in 2012. Since then, the company's taken several forms and partners have come and gone, but their guiding principles have always remained: good design and quality products, without marketing hype or exaggeration.

From this honest approach, and through iterative design with a focus on enriching your coffee brewing experience, Craig Lyn Design Studio produces incredibly well crafted tools with all the features you need and none that you don't.

USE & CARE

Simply twist & pull/push the lid to open/close vaults. Wipe clean with a damp cloth as needed; for a more thorough cleaning, immerse in soapy water or run through the dishwasher.