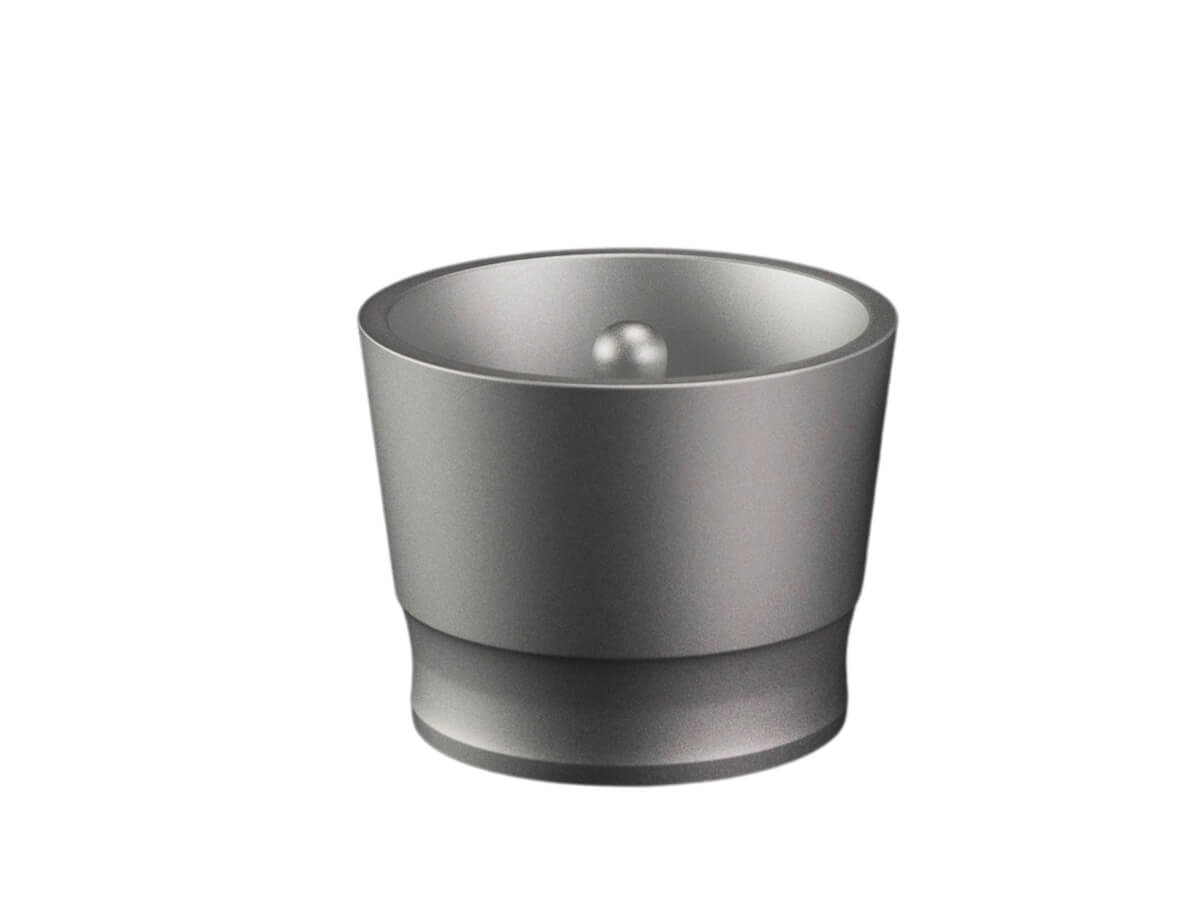 Craig Lyn Design Studio | Blind Tumbler
Description
Details
Other Info
STIRRED, NOT SHAKEN

Understanding the importance and impact of the redistribution of your grind, Craig Lyn Design Studio is pleased to offer three different tools designated specifically for this aspect of your workflow.

The original accompaniment to the HG-1, the Blind Tumbler is designed to facilitate redistribution before dosing into your portafilter basket or brewer. Simply grind directly into the tumbler, then give the grinds a quick stir; once redistributed, place the Blind Tumbler over your basket or brewer and pull the plug to release your well prepared grind for the next step of your brew.

With a set of ridges on its base, the Blind Tumbler is made to rest easily atop portafilter basket sizes ranging from 49mm to 59mm and anywhere in between.

FEATURES

Redistributing your grind—reorganising the range of particle sizes to create a more homogenous spread—can improve the evenness and consistency of your extractions, and reduces the volume of your grind to fit more easily in your portafilter basket prior to tamping.

Blind Tumbler is designed to facilitate the redistribution of grinds with a stirring action as with a cocktail whisk or small spoon.

Base with plug is designed to facilitate direct dosing of your redistributed grind into a waiting portafilter basket or other brewer.

Pair of ridges on base allows Blind Tumbler to sit evenly atop portafilter basket sizes ranging from 49mm to 59mm.

Precision CNC machined from aircraft grade aluminium, and anodised for a protective finish.

Designed & Engineered in the USA

Made in China

ABOUT CRAIG LYN DESIGN STUDIO

The original HG-1 was designed and manufactured by Craig Lyn and Paul Nahhas in 2012. Since then, the company's taken several forms and partners have come and gone, but their guiding principles have always remained: good design and quality products, without marketing hype or exaggeration.

From this honest approach, and through iterative design with a focus on enriching your coffee brewing experience, Craig Lyn Design Studio produces incredibly well crafted tools with all the features you need and none that you don't.

USE & CARE

Wipe clean with a damp cloth as needed; do not place in dishwasher.

WARRANTY

Per their Heirloom Quality Construction guarantee, Craig Lyn Design Studio products are made to last and to be handed down to the next generation.