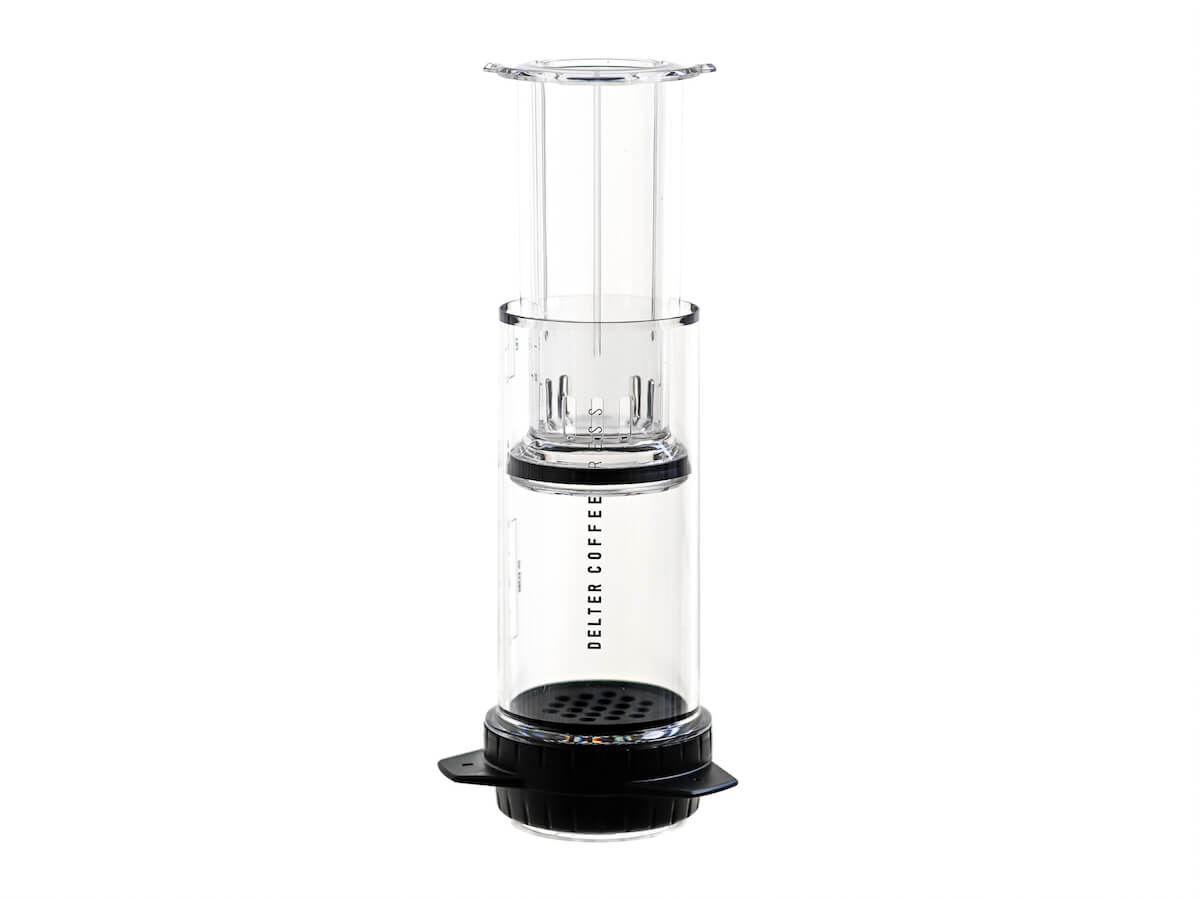 Delter | Coffee Press
Description
Details
Other Info
A NEW WAY TO BREW

Introducing volumetric infusion to manual brewing, the Delter Coffee Press features a unique Jet-Seal, whereby the brewing water and grounds chamber are separated by a pressure-activated shower screen. Preventing any unwanted agitation, the resulting water flow control and pressurised infusion allows for faster, cleaner, easier, and consistently delicious results.

Requiring nothing more than fresh roasted beans, a grinder, and water just off boil, the compact and ultra portable Delter Coffee Press is equipped with a dosing tool and multiple fill lines to make consistent brewing a breeze at home or on the go—and with countless recipe variation possibilities, you'll never want to leave home without it.

Includes dosing/heat-retention cap & pack of 100 paper filters.

FEATURES

Unique Jet-Seal system keeps brewing water and coffee grounds separate to prevent uncontrolled agitation.

Manual pressure-actuated water flow and infusion provides greater control and consistency.

250ml capacity brew chamber with pass-through plunger and multiple fill lines allows for easy measuring of brewing water and bloom/pulses in a brew process (and resulting cup) akin to a pour over.

30g capacity grounds chamber allows for wide range of serving size variability: for larger/shared batches, simply refill the water chamber during the brew process.

Compact, lightweight (250g) and ultra portable.

Easy to use; easy to clean.

Accepts standard paper AeroPress filters, but fractionally smaller cap will not accept some stainless disc filters designed for AeroPress.

MATERIALS

BPA-free Tritan copolyester; silicone.

DIMENSIONS

ø2.5" x W3.9" x H6.7" | ø6.5cm x W10cm x H17cm

Designed & Engineered in Brisbane, Australia

Made in China

ABOUT DELTER COFFEE TOOLS

A sibling to Mark Folker's Trinity Coffee Co., Delter is dedicated to developing simple, innovative and affordable coffee brewing gear that excels in efficiency and convenience.

USE & CARE

See Delter's brew guide video to help get you started. For additional guidance and general use & care instructions, please contact us.

WARRANTY

30-day limited manufacturer's warranty.