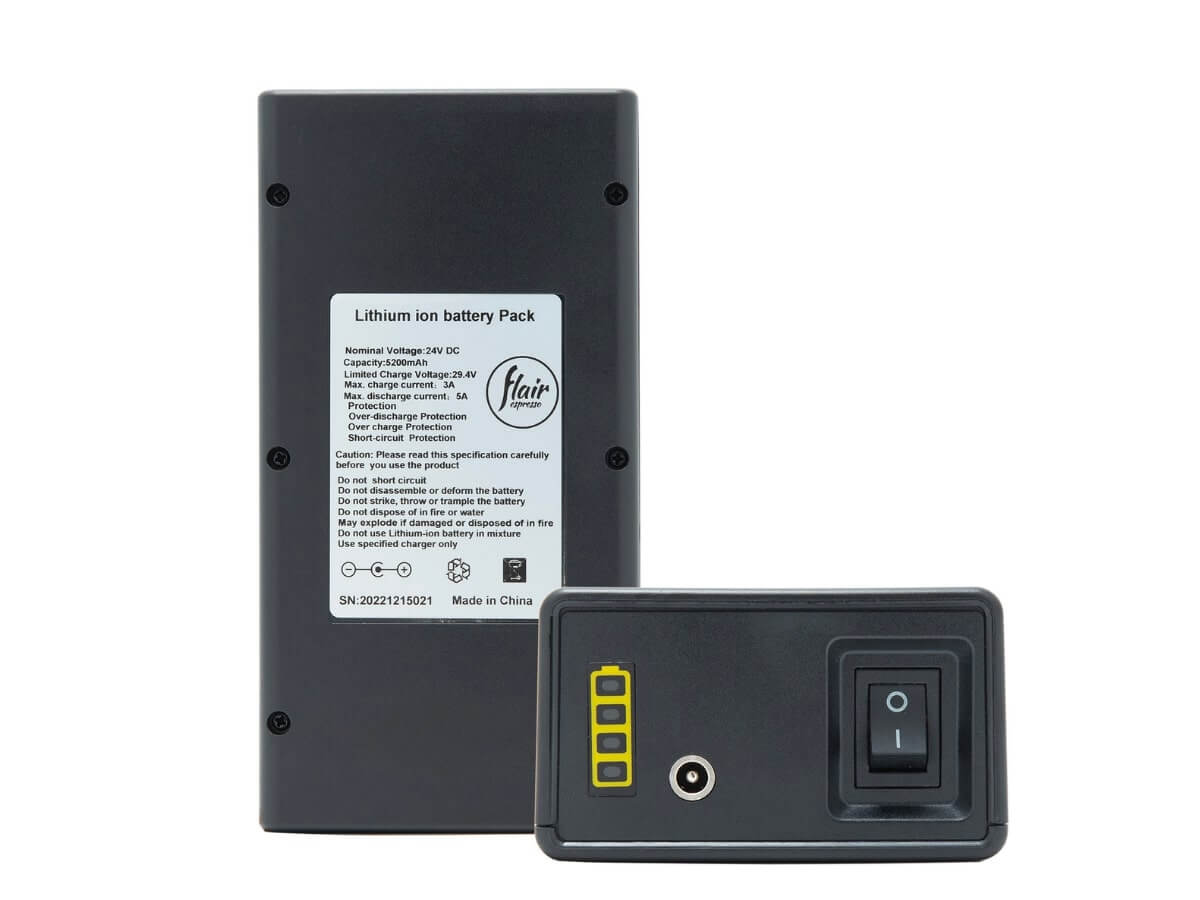 Flair 58 | Battery Pack
Description
Details
Other Info
Power Up

Take your espresso ritual off-grid without missing a beat with the Flair 58 Battery Pack.

Whether you'd like to bring your Flair 58 to your next tailgate or camping trip—or just want to avoid any downtime during the next power outage—the Flair 58 Battery Pack empowers you to serve up and enjoy delicious espresso anywhere.

FEATURES

Output: 24V /5A Input: 29.4V/0.95A

5200 mAh 131 Wh capacity, approximately 1-2 shots per day for two weeks, or 5 hrs of continuous (runtime) heating; constructed with high quality lithium-ion batteries.

Supports over-charged/discharged, over-voltage, over-current and short-circuit protection.

Made in China

ABOUT FLAIR

Born from a desire to make espresso without any unnecessary gadgetry or the complexity of high-end machines, Flair set out with one mission: to make espresso in the comfort of one's home or anywhere you go.

Combining thirty years of engineering experience and a love for pure, delicious espresso, Flair created a simple, elegant, and affordable solution that speaks to their mantra of enjoying the process as much as the destination and slowing down to savour the best things in life—like espresso made right.

USE & CARE

To use, ensure that the battery pack is switched to ON, then connect the included DC power cord into the battery back and the single pin connector on your 58's temperature controller. Set your temperature controller to your desired setting and use as normal.

To conserve battery, we recommend keeping your preheat to no more than 5-10 minutes, and to power off both the battery and the 58 as soon as you've pulled your shot(s).

NOTE: When charging, please ensure switch of the battery is placed to the ON position before plugging in AC-DC charger. Failure to do so may result in a spark upon connection. For use only with Flair 58 products. Low voltage devices should never be plugged into the high voltage output port. Damage may result if used with unapproved electronic devices.