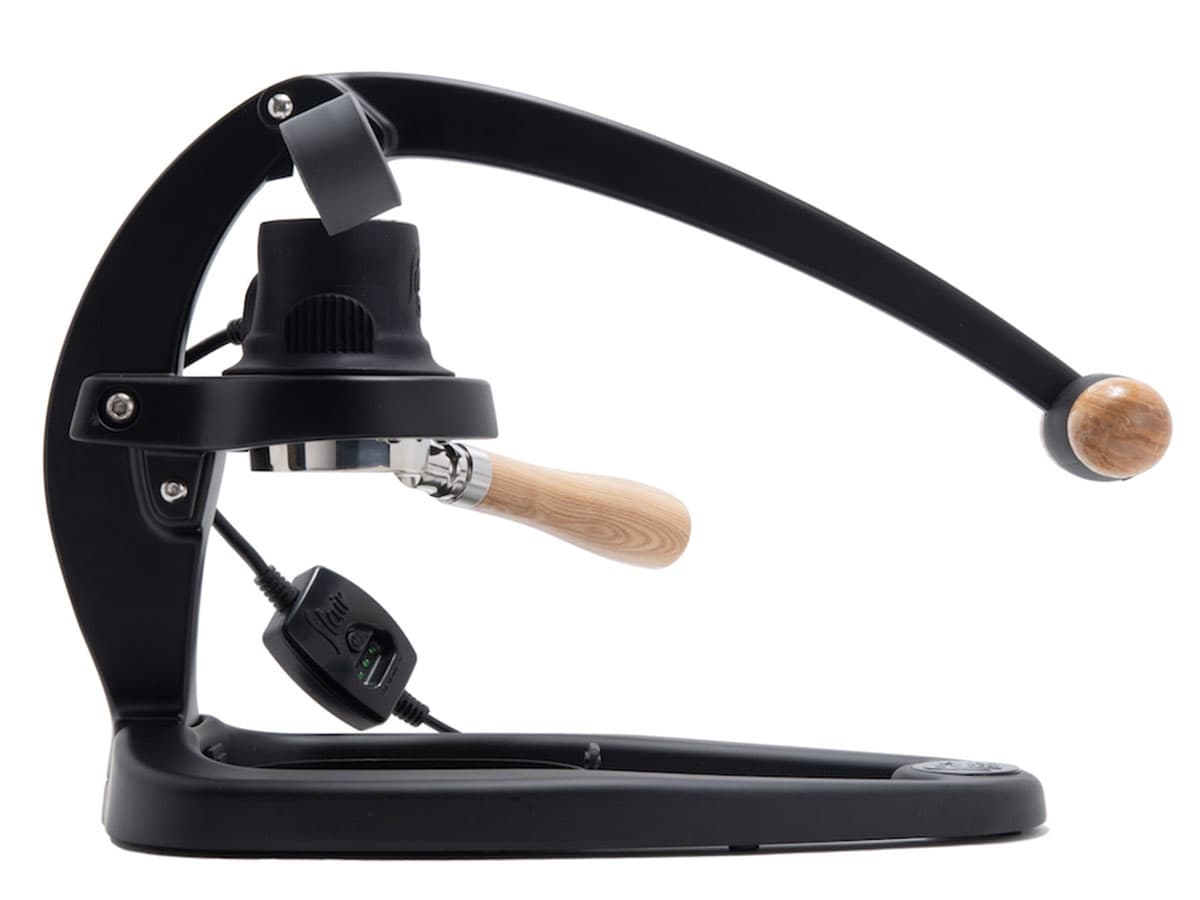 Flair 58 (2023 Edition)
Description
Details
Other Info
UNLOCK THE POTENTIAL OF YOUR ESPRESSO

Focused on maximising the quality of your at-home espresso extractions, the Flair 58 is a professional grade manual lever press.

Featuring an industry standard handled 58mm portafilter and integrated temperature controller, the Flair 58 simplifies your workflow and thermal management so you can focus on what matters most. With a suite of thoughtful design elements and key upgrades to functionality and aesthetics to enhance the overall experience, the 2023 edition Flair 58 allows you to explore the full potential of your espresso.

Also available in a non-electric version, the Flair 58x offers the same gold standard performance with a fully unplugged (and now electric-enabled) experience.

New features with 2023 edition: Enhanced single slot valve plunger; integrated stainless steel disc mount for magnetic articulating shot mirror; 45° angled elbow connector to minimise wiring; and a detachable preheat controller so you can brew anywhere.

FEATURES

Includes everything you need to handcraft café-quality espresso anywhere you can boil water.

Electric model includes integrated temperature preheat controller with 3 settings (High, Medium, Low) to match your brewing preference; helps maintain consistent brewing temperatures.

New detachable preheat system with 45° elbow connector minimises wiring and allows for off-grid use (with optional battery pack).

Industry standard 58mm bottomless portafilter with handle for improved ergonomics; will accommodate any 58mm basket, tamper and/or distribution tool.

Non-electric Flair 58x now includes electric-enabled brew head; can later be upgraded with the electric preheat system.

Wide base, elongated lever and T-grip handle provide greater stability, ease and comfort/control of operation.

Advanced mechanical workflow, including lever-retracted piston and valve plunger, allows for rapid-fire extractions.

Enhanced valve plunger with a single slot, as opposed to the dual slot version from previous models; improves valve function when filling the brew cylinder, with a reduced potential for the stem to raise from the plunger when stem tabs fall into alignment with the smaller single slot.

Fully manual operation allows total customisation of brewing variables, with integrated pressure gauge for live profiling.

Expanded brew ratios and capacity by way of a larger 90ml reservoir and 16-20g portafilter basket (*7-28g with other available 58-58.5mm baskets).

Mirror upgrade enabled, with stainless steel disc integrated into the post of the lever assembly.

Easy to clean: features the market's only fully detachable brewing head.

Premium build with elegant wooden accents, and a plastic-free brew path.

CONTENTS

Flair 58:

Base and lever assembly; brew head; pressure gauge with stainless steel stem; one-way valve plunger; 58mm bottomless portafilter and 16-20g low-flow basket; puck screen; detachable preheat controller and power unit; tamper; drip tray.

Flair 58x:

Base and lever assembly; brew head; pressure gauge with stainless steel stem; one-way valve plunger; 58mm bottomless portafilter and 16-20g low-flow basket; puck screen; tamper; drip tray.

DIMENSIONS

Assembled: 8lbs | 3.63kg — L14" x W7.5" x H11.5" (H24.25" w. lever up) | L35.5cm x W19cm x H29.2cm (H61.6cm w. lever up)

In case: 12lbs | 5.45kg — L20" x W14" x H6" | L50.8cm x W35.5cm x H15.2cm

Designed in California, U.S.A.

Made in China

ABOUT FLAIR

Born from a desire to make espresso without any unnecessary gadgetry or the complexity of high-end machines, Flair set out with one mission: to make espresso in the comfort of one's home or anywhere you go.

Combining thirty years of engineering experience and a love for pure, delicious espresso, Flair created a simple, elegant, and affordable solution that speaks to their mantra of enjoying the process as much as the destination and slowing down to savour the best things in life—like espresso made right.

USE & CARE

Please refer to the Flair 58 Quick Start Guide.

For more detailed brewing tips, please visit Flair's Brewing Guide page or contact us.

WARRANTY

Made of high-grade die-cast aluminum and stainless steel, the Flair 58 comes with a 5-Year limited warranty on Metal components. Parts that are more subject to normal wear and tear, such as O-rings and Silicone Preheat Cap are warranted against defects in material, design or workmanship for 6-months, although these items are expected to last beyond the warranty.