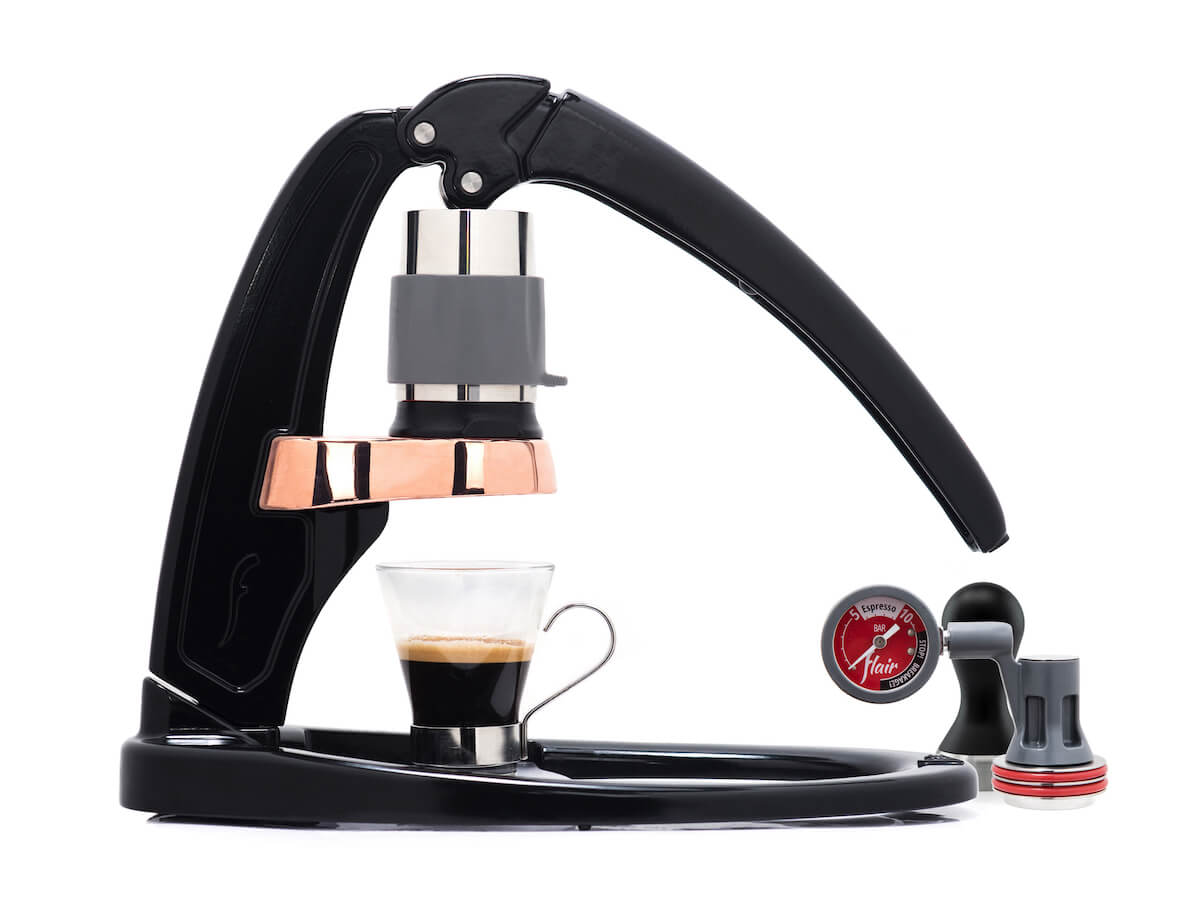 Flair | Espresso Maker - Signature Black
Description
Details
Other Info
ESPRESSO MADE RIGHT

Sleek, compact, and capable of brewing at 9-BAR pressure, the unique design of the Flair Espresso Maker enables you to handcraft true, professional quality espresso at home or anywhere you go.

Featuring a matte black finish, hand-polished copper portafilter base and the same attention to detail as the original Flair, the Signature model comes ready with a stainless steel tamper and bottomless 2-in-1 portafilter to offer even greater precision and usability.

FEATURES

Includes everything you need to brew a variety of espresso-based beverages anywhere you can boil water: no need for electricity; not locked in to pods or capsules.

Lever press produces 6-10 bars of pressure for true espresso extraction.

Empowering precise control of brew pressure throughout the entire extraction, the easy-to-read pressure gauge face provides live feedback on your pull and lets you know when you're brewing in the recommended range for true espresso.

Fully manual operation allows total customization of brewing variables.

Easy to clean: features the market's only fully detachable brewing head.

Completely portable: breaks down into convenient carrying case.

17g capacity portafilter basket; 60ml water capacity brew cylinder.

Built to last with high strength aluminum and stainless steel components.

CONTENTS

Flair Espresso Maker - Signature:

PGK SET — Black Base, Post & Lever with Copper-Plated Portafilter Base; Bottomless 2-in-1 Portafilter & Stainless Dispersion Screen; Brewing Cylinder; Pressure Gauge Kit w. Stainless Steel Plunger & Gauge Guard; Dosing Cup; Stainless Steel Tamper; Filling Funnel; Drip Tray; Carrying Case.

DIMENSIONS

Assembled: L12" x W6" x H10" | L30cm x W15cm x H25cm

In case: 6lbs | 2.7kg — L12.5" x W9" x H3.25" | L32cm x W23cm x H8cm

Designed in California, U.S.A.

Made in China

ABOUT FLAIR

Born from a desire to make espresso without any unnecessary gadgetry or the complexity of high-end machines, Flair set out with one mission: to make espresso in the comfort of one's home or anywhere you go.

Combining thirty years of engineering experience and a love for pure, delicious espresso, Flair created a simple, elegant, and affordable solution that speaks to their mantra of enjoying the process as much as the destination and slowing down to savour the best things in life—like espresso made right.

USE & CARE

Please refer to the Flair Espresso Maker Quick Start Guide.

For more detailed brewing tips, please visit Flair's Brewing Guide page or contact us.

WARRANTY

Made of high-grade aluminum and stainless steel, the Flair Espresso Maker comes with a 5-Year limited warranty on Press Stand & Brewing Cylinder. Parts that are more subject to normal wear and tear, such as O-rings, Silicone Sleeve, Piston, and Portafilter are warranted against defects in material, design or workmanship for 6-months, although these items are expected to last beyond the warranty.