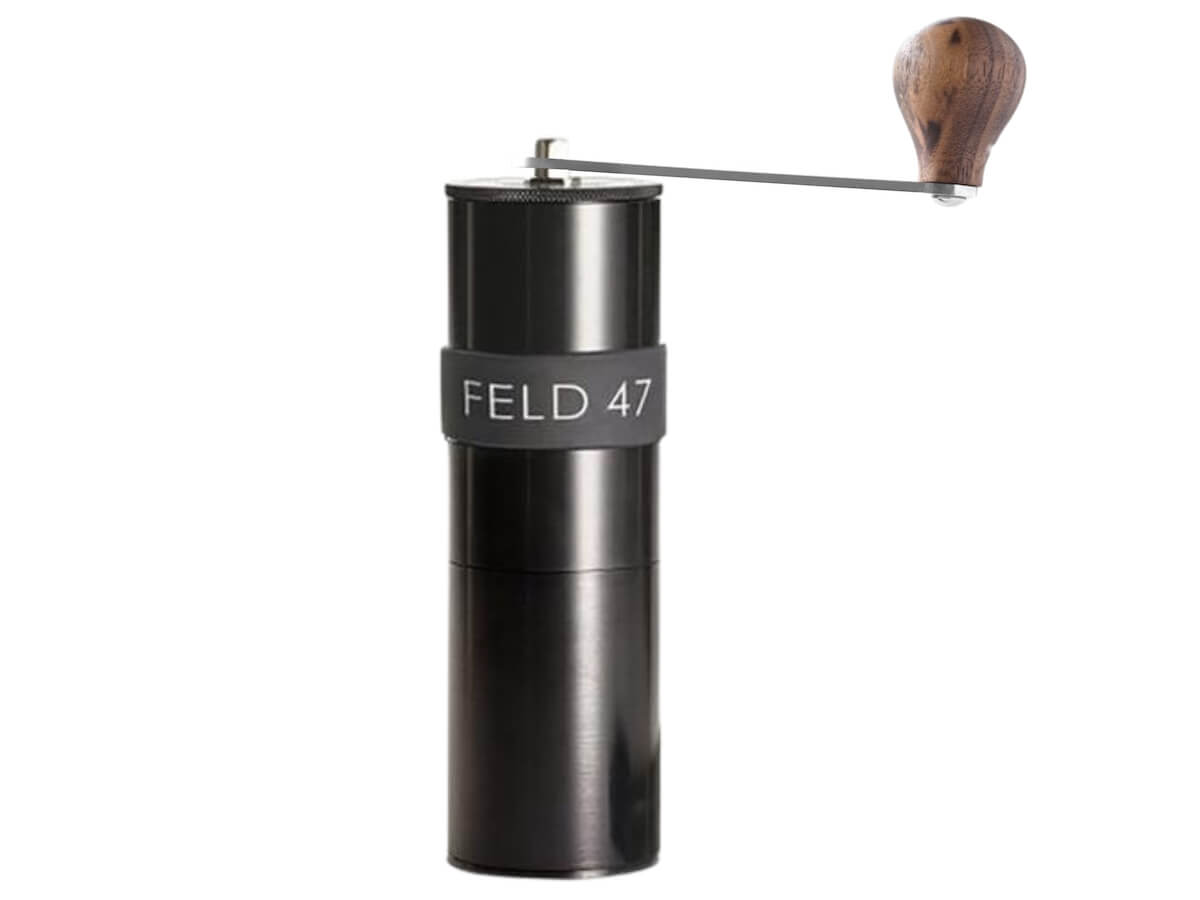 Knock | Feld47
Description
Details
Other Info
REFINED GRIND

Featuring commercial-grade titanium nitrided 47mm burrs for faster, smoother, more consistent grinding and more finely controlled range of adjustment, the Feld47 is Knock's top-of-the-line model—designed for those seeking uncompromising grind quality for any brew method.

Complementing Knock's distinctive precision machined unibody casing and stepless top-dial adjustment with knurled grip, the Feld47's beautiful golden burrs and hand-turned walnut handle provide a fitting touch of luxury to its refined build and performance.

FEATURES

Titanium nitrided 47mm Italmill steel burrs provide premium grind uniformity with full-range performance, from espresso to French press.

Stepless top dial grind adjustment provides limitless precision, with clear numbering and knurled grip for ultra practical handling.

Full metal body, shaft, adjustment mechanism and lid, all machined in the UK.

Hand-turned walnut handle.

Dual ball-bearing mounts for smooth operation.

Includes travel pouch, silicone sleeve and holster for handle, plus a set of spare o-rings (shaft and catch cup).

MATERIALS

Aluminium body; steel burrs, axle, bearings and handle; plastic bearing mounts; wood pommel.

SPECIFICATIONS

Dimensions (w. handle mounted): ø2.3" x H8.5" x W6.6" | ø5.8cm x H21.6cm x W16.8cm

Dimensions (w. handle stored): ø2.3" x H8" | ø5.8cm x H20.3cm

Capacity: 44-47g

Weight: 755g

Designed and hand built in Scotland

ABOUT KNOCK

Started in 2010 by Peter Kilpatrick and Dr. Uwe Stein, Knock sets out to make simple, beautiful and practical tools to help make coffee better. From their workshop in Portobello, Edinburgh, Knock produces high quality coffee grinders and accessories that are prized worldwide for their consistency, durability and value.

USE & CARE

Regular cleaning will keep your grinder running smoothly and tasting fresh. Simply wipe and/or brush clean with a non-abrasive bristle brush or cloth.