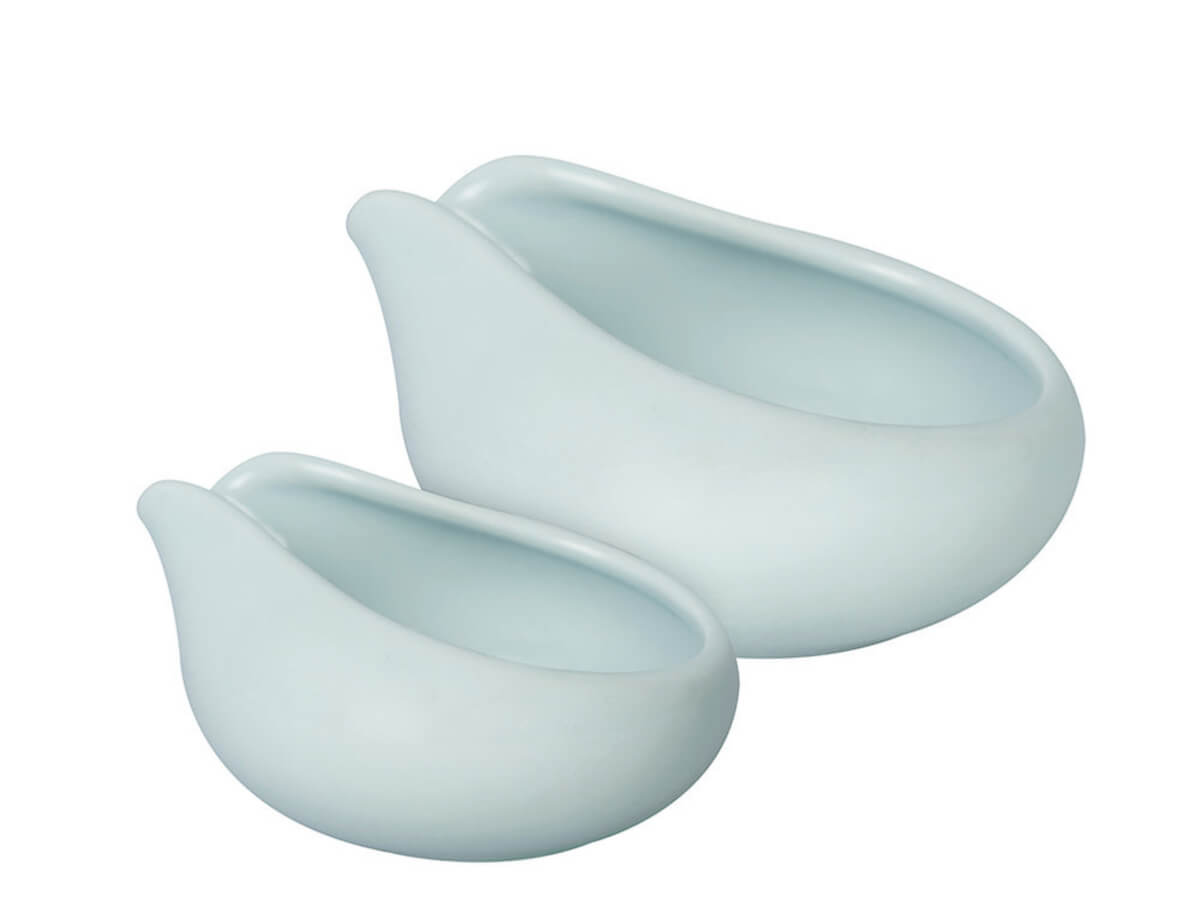 Loveramics | Coffee Dosing Trays - Set of 2
Description
Details
Other Info
daily dose

Designed in collaboration with James Hoffmann and Tens Hundreds Thousands, the Coffee Dosing Trays from Loveramics were inspired by Cha He tea presentation vessels and have been thoughtfully adapted for coffee use.

Featuring a wide mouth that allows beans in without bouncing out, the Dosing Trays double as a grounds catcher to grind your coffee into and to comfortably remove any excess dose from; with a narrowed pouring spout, they make weighing and dosing into a grinder or brewer—or both—easier and more pleasurable.

With two sizes to suit small and large requirements, the Coffee Dosing Trays are the perfect workflow complement to enhance the enjoyment of your daily ritual.

Set of 2 trays: 1 Large and 1 Small; available in your choice of Celadon Blue or White finish.

Features

Made of high quality and durable vitrified porcelain for many years of enjoyment.

Wide mouth and narrowed pouring spout allow for easy filling with no spillage, providing an elegant and enjoyable solution for weighing and dosing your coffee.

Designed in two sizes to suit any requirement.

Materials

Porcelain.

Dimensions

Large Tray Capacity: 60-80g

L4.7" x W3.9" x H2.55" | L12cm x W10cm x H6.5cm

Small Tray Capacity: 30-40g

L3.7" x W3.1" x H2" | L9.5cm x W8cm x H5cm

Designed by Simon Stevens in the United Kingdom

Made in China

About Loveramics

Loveramics is an internationally recognised ceramics brand, synonymous with quality and craftsmanship. Breaking the proverbial mould on pottery, they endeavour to inspire fresh interest in simple wares with stylish contemporary designs where their passion is evident in every piece.

Blending form and function with clean and practical designs that complement and enrich your daily ritual, the artisans at Loveramics skillfully craft humble products that they would want to use themselves; and really, it's just a happy accident that they've become the preferred choice of baristas everywhere.

Use & Care

Loveramics porcelain is rather strong, thanks to its high density and high-temperature kiln firing process. As such, it is quite resistant to chipping but should still be handled with care.

Dishwasher and microwave safe.

Warranty

Loveramics products carry a limited manufacturer's warranty.