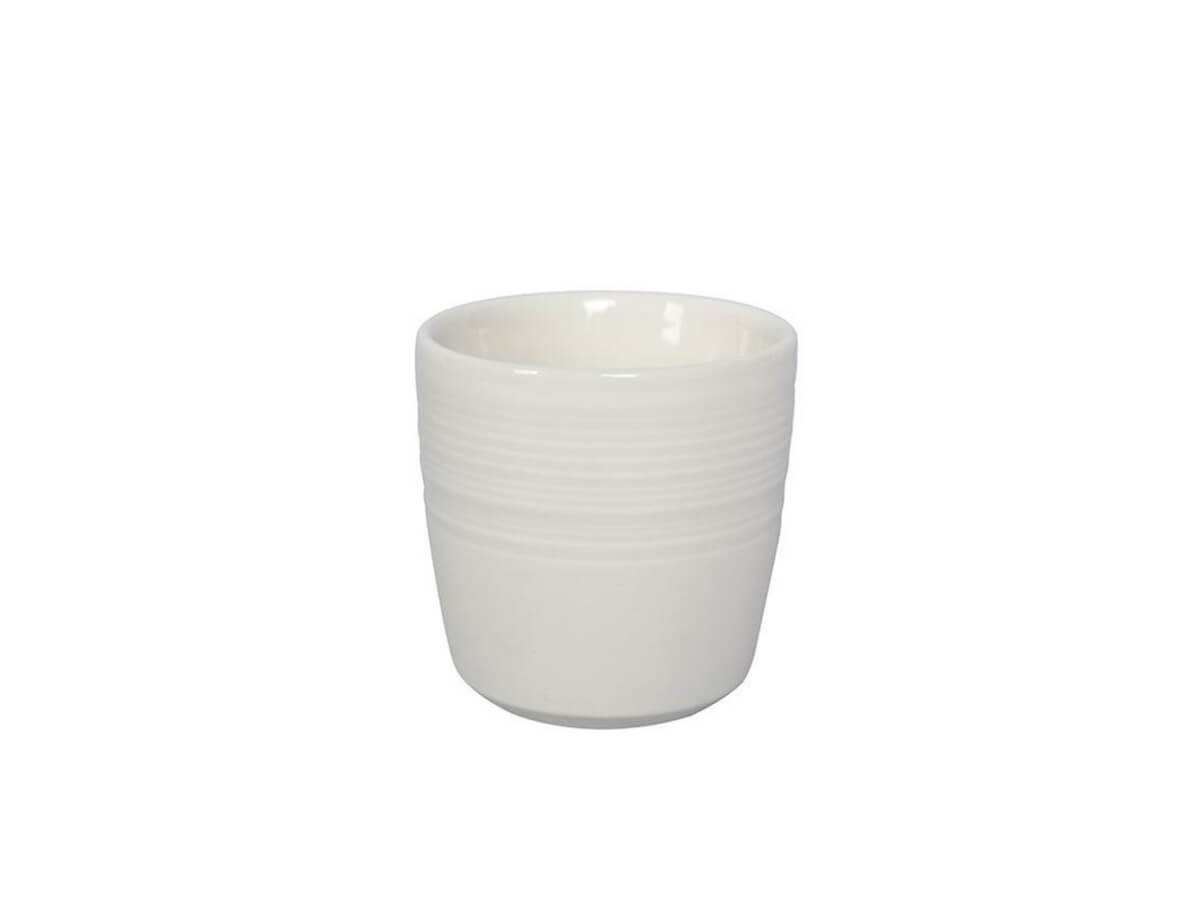 Loveramics | Dale Harris 'Champions Signature' 150ml Flat White Cup - 6pk
Description
Details
Other Info
For your signature drinks

A collaboration with 2017 World Barista Champion, Dale Harris, and ceramist, Ben Sutton, the 'Champions Signature' cup collection is designed with capacity and shape specifications to match Dale's winning recipes and routine.

New for 2023, the Dale Harris cups are now available in three new translucent potters colours, deliberately formulated to produce a crackle surface for added aesthetic interest.

Made by Loveramics with their signature high quality, super durable porcelain, the Dale Harris Cup presents a tactile contrast of glazed and unglazed surfaces, with clean lines and an elegant form to enhance the enjoyment of your favourite drink.

Available in your choice of accent colour to please any preference.

Carton of 6pcs.

*Note: It is recommended to wash the crackle glaze cups soon after use; their finish is not as stable as the flat colours and may sustain some staining in the fissure lines if left to soak for a prolonged period.

Features

Made of high quality and durable vitrified porcelain for many years of enjoyment.

Designed with capacity and shape specifications to match Dale Harris's World Barista Championship winning recipes and routine.

Deliberately formulated glazes produce a crackle surface finish; a prized pottery effect that can only be achieved in a small studio.

The curved inner surface aids flavour incorporation, latte art and crema retention, allowing the best presentation of drinks.

The cups are durable with thick walls that retain drink temperature whilst being comfortable to hold without a handle.

Comfortable shape and drinking edge allows for the fullest appreciation of your favourite drink.

Clear hand-thrown style lines on each cup.

Backstamp features Dale's autograph and winning year, and Ben's potter's stamp.

Sized to fit espresso makers, and latte-art-friendly wide brim and inner curve.

Materials

Porcelain.

Dimensions

Flat White: 5oz | 150ml — ø3.15" x H4.3" | ø7cm x H7cm

Designed by Ben Sutton in the United Kingdom

Made in China


About Loveramics

Loveramics is an internationally recognised ceramics brand, synonymous with quality and craftsmanship. Breaking the proverbial mould on pottery, they endeavour to inspire fresh interest in simple wares with stylish contemporary designs where their passion is evident in every piece.

Blending form and function with clean and practical designs that complement and enrich your daily ritual, the artisans at Loveramics skilfully craft humble products that they would want to use themselves; and really, it's just a happy accident that they've become the preferred choice of baristas everywhere.

Use & Care

Loveramics porcelain is rather strong, thanks to its high density and high-temperature kiln firing process. As such, they are quite resistant to chipping but should still be handled with care.

Dishwasher and microwave safe.

Warranty

Loveramics products carry a limited manufacturer's warranty.