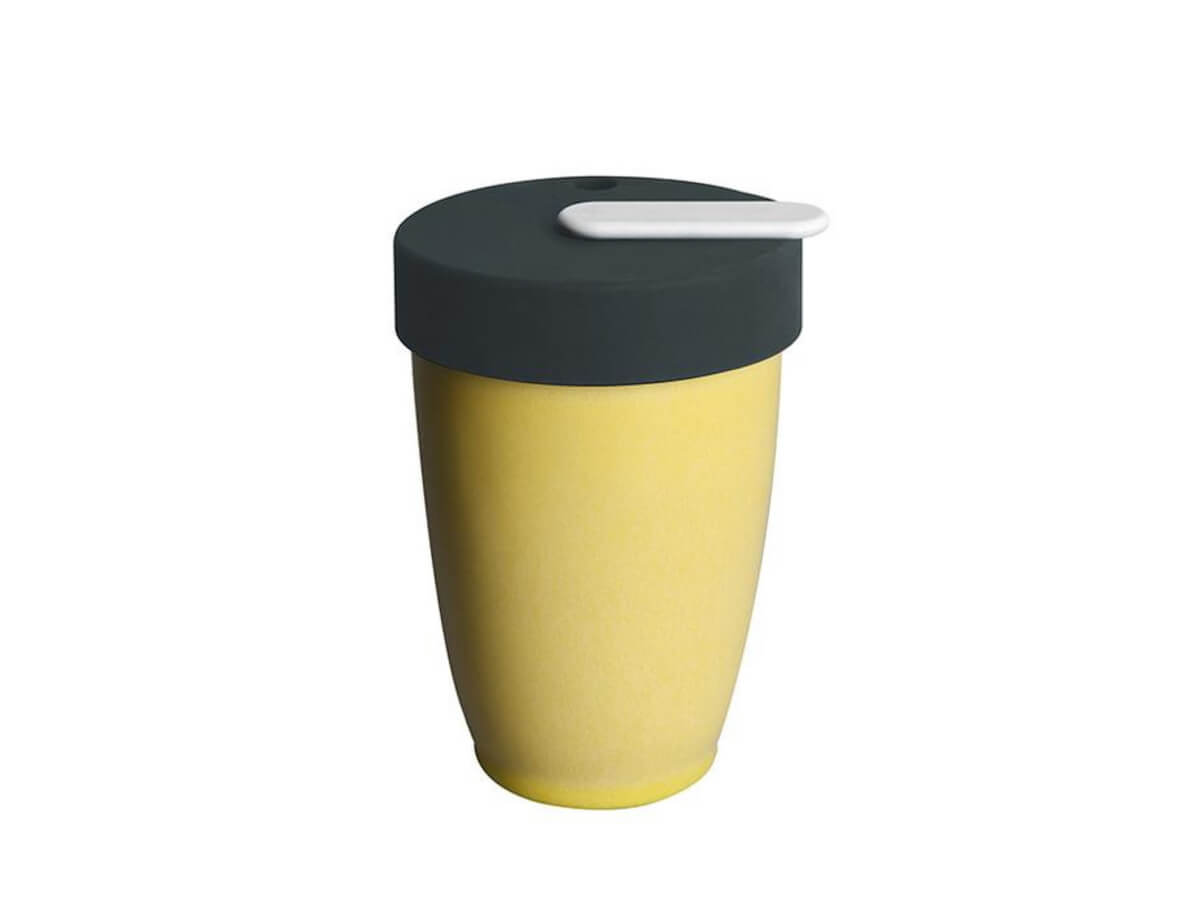 Loveramics | Nomad Mug - Butter Cup (Potters Colours)
Description
Details
Other Info
life on the go never looked (or tasted) so good

Designed for an uncompromising coffee drinking experience with minimal environmental impact, the Loveramics Nomad Mug is designed to preserve and accentuate your favourite beverage—wherever your day takes you.

Double-walled to maintain your drink's optimal temperature while insulating your hands from its contents, the Nomad Mug is crafted for comfort with a one-hand design that allows you to open or close the lid with ease while on the go. Perfect for an urban commute and ideal for preserving the true flavour of your drink, the Nomad Mug's barista-oriented size, shape and continuous inner curve will be a favourite at your local café as well.

Available in a wide variety of ceramic colours or borosilicate glass to highlight the beautiful hues of your favourite drink.

Features

Made of high quality and durable vitrified porcelain for many years of enjoyment with a reduced carbon footprint.

Double-wall design maintains your drink's optimal temperature for an extended period while insulating your hands from the mug's contents.

Fully inert ceramic preserves the utmost flavour potential of your favourite drink; easy to clean, stain-free material.

One-hand design allows for comfortable handling and opening/closing of the lid while on the go.

Comfortable drinking edge and wide mouth (without lid) allows for the fullest appreciation of your favourite drink.

Sized to fit most espresso makers or manual coffee makers, with volume markers (5oz|150ml, 6.5oz|200ml and 8oz|250ml) and a latte-art-friendly wide brim with continuous inner curve.

Materials

Porcelain, food-grade silicone lid.

Dimensions

8oz | 250ml — ø3.15" x H4.3" | ø8cm x H11cm

Designed by Simon Stevens in the United Kingdom

Made in China


About Loveramics

Loveramics is an internationally recognised ceramics brand, synonymous with quality and craftsmanship. Breaking the proverbial mould on pottery, they endeavour to inspire fresh interest in simple wares with stylish contemporary designs where their passion is evident in every piece.

Blending form and function with clean and practical designs that complement and enrich your daily ritual, the artisans at Loveramics skillfully craft humble products that they would want to use themselves; and really, it's just a happy accident that they've become the preferred choice of baristas everywhere.

Use & Care

Loveramics porcelain is rather strong, thanks to its high density and high-temperature kiln firing process. As such, they are quite resistant to chipping but should still be handled with care.

Dishwasher and microwave safe.

Warranty

Loveramics products carry a limited manufacturer's warranty.