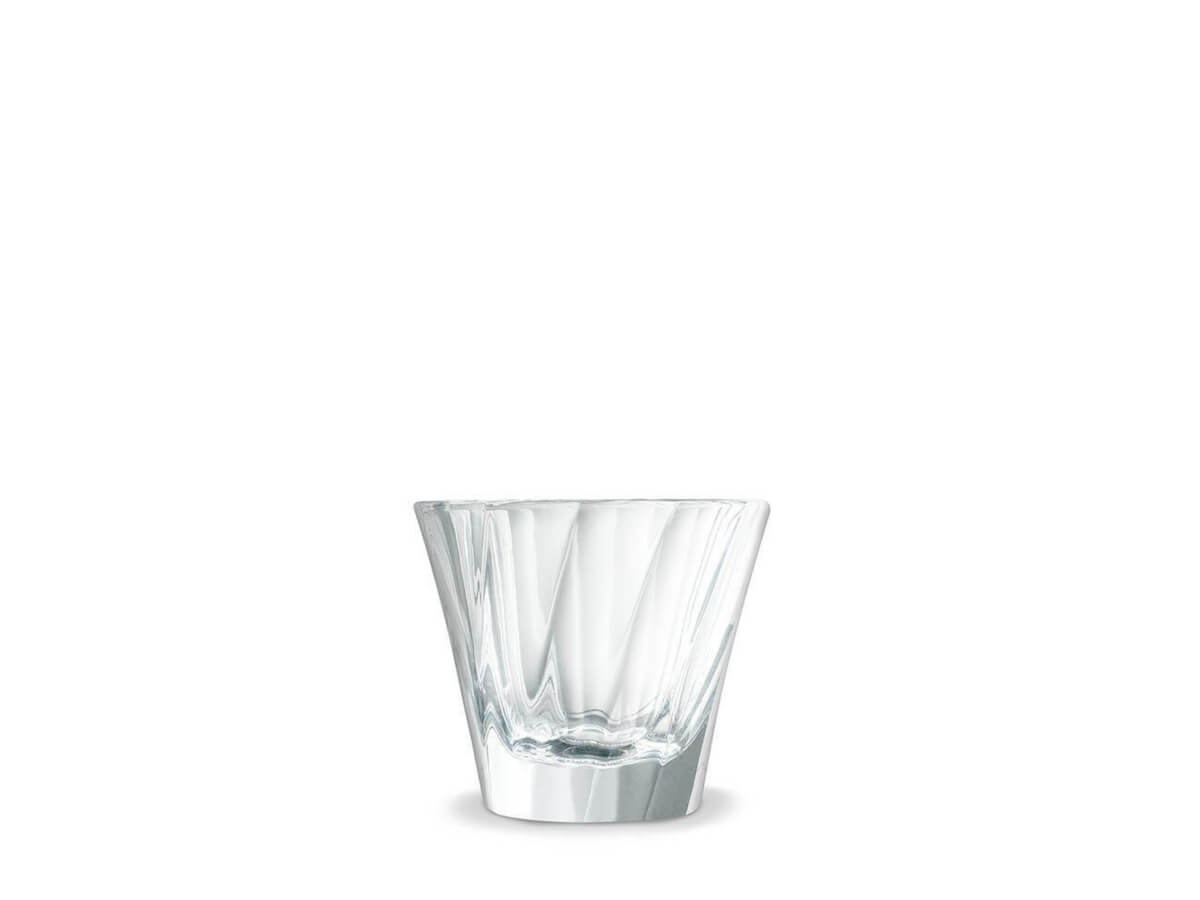 Loveramics | Twisted Glass - Clear - 6pk
Description
Details
Other Info
A New Twist On A Classic

Applying the lessons learned from their renowned ceramics, the Twisted Glass collection by Loveramics is designed to satisfy baristas everywhere.

Uniquely styled with a twisted exterior pattern, each glass has a continuous curve at its base for optimal fluid dynamics. Stackable, and made with 5mm thick glass for improved durability and heat retention, the Twisted Glass brings substance and style to any coffee ritual.

Available in four sizes: Espresso (70ml), Cortado (120ml), Cappuccino (180ml) and Latte (360ml).

Features

Made of high quality non-porous glass.

Thick 5mm construction for improved durability and heat retention.

Continuous curve at base for optimal fluid dynamics; excellent for pouring latte art.

Stackable, and sized to fit espresso machines.

Espresso glass fits the 11.5cm Egg Saucer; Cortado & Cappuccino glasses fit the 14.5cm Egg Saucer; Latte glass fits the 15.5cm Egg Saucer.

Materials

Glass.

Dimensions

Espresso: 2.4oz | 70ml — ø2.6" x H2.3" | ø6.6cm x H5.8cm

Cortado: 4oz | 120ml — ø3.1" x H2.8" | ø7.9cm x H7.1cm

Cappuccino: 6oz | 180ml — ø3.4" x H3.4" | ø8.7cm x H8.7cm

Latte: 12oz | 360ml — ø3.6" x H5.2" | ø9.2cm x H13.3cm

Designed by Simon Stevens in the United Kingdom

Made in China


About Loveramics

Loveramics is an internationally recognised ceramics brand, synonymous with quality and craftsmanship. Breaking the proverbial mould on pottery, they endeavour to inspire fresh interest in simple wares with stylish contemporary designs where their passion is evident in every piece.

Blending form and function with clean and practical designs that complement and enrich your daily ritual, the artisans at Loveramics skillfully craft humble products that they would want to use themselves; and really, it's just a happy accident that they've become the preferred choice of baristas everywhere.

Use & Care

Dishwasher and microwave safe; do not freeze.

Warranty

Loveramics products carry a limited manufacturer's warranty.