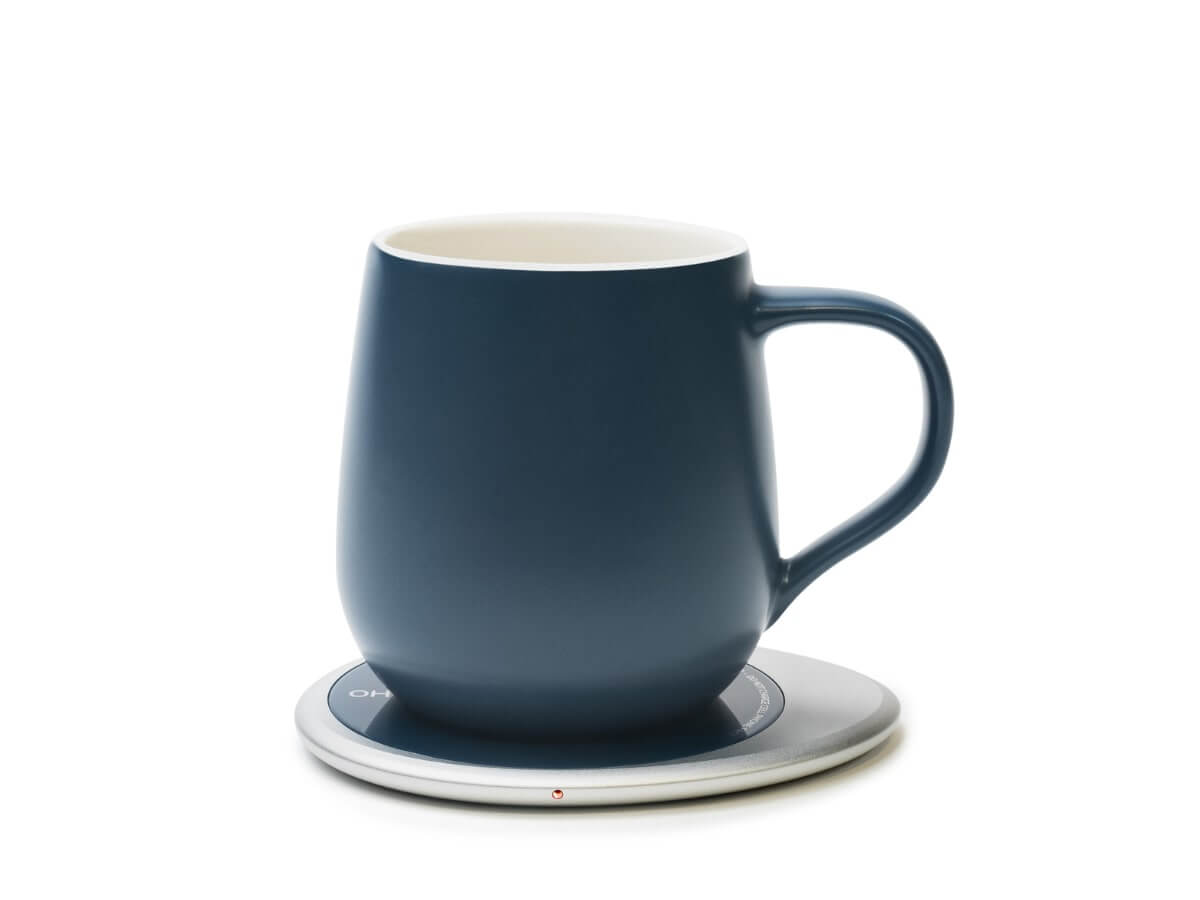 OHOM | Ui 3 Self-Heating Mug Set
Description
Details
Other Info
Everlasting Warmth

Elevate your coffee experience with the Ui 3 Fine Ceramic Self-Heating Mug from OHOM. Keeping your coffee at the optimal drinking temperature of 55°C/130°F via electromagnetic induction heating, the dual-purpose OHOM Pad also wirelessly charges your cell phone.

With its redesigned heating/charging pad, upgraded ceramic coating, a new ergonomic handle, and a charmingly rounded square lid, the Ui 3 combines comfort, style, and innovation in one captivating set.

Meticulously crafted, the Ui 3 is a symbol of elegance and sophistication, and a daily reminder to take a moment to savour the simple pleasures in life.

Available in your choice of colour.

Features

Made of high-density vitrified porcelain for many years of enjoyment.

Porcelain mug contains inlaid metallic particles to empower induction heating with the included OHOM Pad; keeps drinks at optimal drinking temperature of 55°C/130°F.

Dual-purpose OHOM Pad wirelessly charges compatible cell phones.

Mug is dishwasher safe.

OHOM Pad is equipped with overheat protection auto-off safety feature.

Contents

Ui 3 Mug with Lid, Qi charging pad, power adaptor & USB-C cable.

Dimensions

Mug — 12oz | 355ml — ø3" x W5" x H3.7" | ø7.6cm x W12.7cm x H9.5cm

Specifications

OHOM Pad — Max output: 22W (Mug heating); 15W (Android); 7.5W (Apple)

Designed in Los Angeles

Precision made in China

About OHOM

Established in 2014, OHOM—which stands for Open Heart, Open Mind; pronounced /ōm/ as with the Tibetan monk chant—is a design firm with a passion for crafting products that seamlessly blend the timeless allure of tradition with cutting-edge technology to infuse everyday objects with a touch of elegance and modern-day convenience.

Committed to sustainability as a guiding principle, OHOM focuses on the use of environmentally friendly materials in their development of simple, functional and aesthetically pleasing items, and backs their designs with an industry-leading warranty. With OHOM, you're not just purchasing a product; you're embracing a lifestyle that celebrates artistic excellence and cherishes environmental consciousness.

Use & Care

Mug is dishwasher safe; do not microwave as the mug contains inlaid metallic particles to empower induction heating from the pad.

For all other use & care directions, please refer to the included user guide, or refer to OHOM's FAQ Page.

Warranty

OHOM products carry a 10-year limited manufacturer's warranty on ceramics, and 1-year on electronic parts.