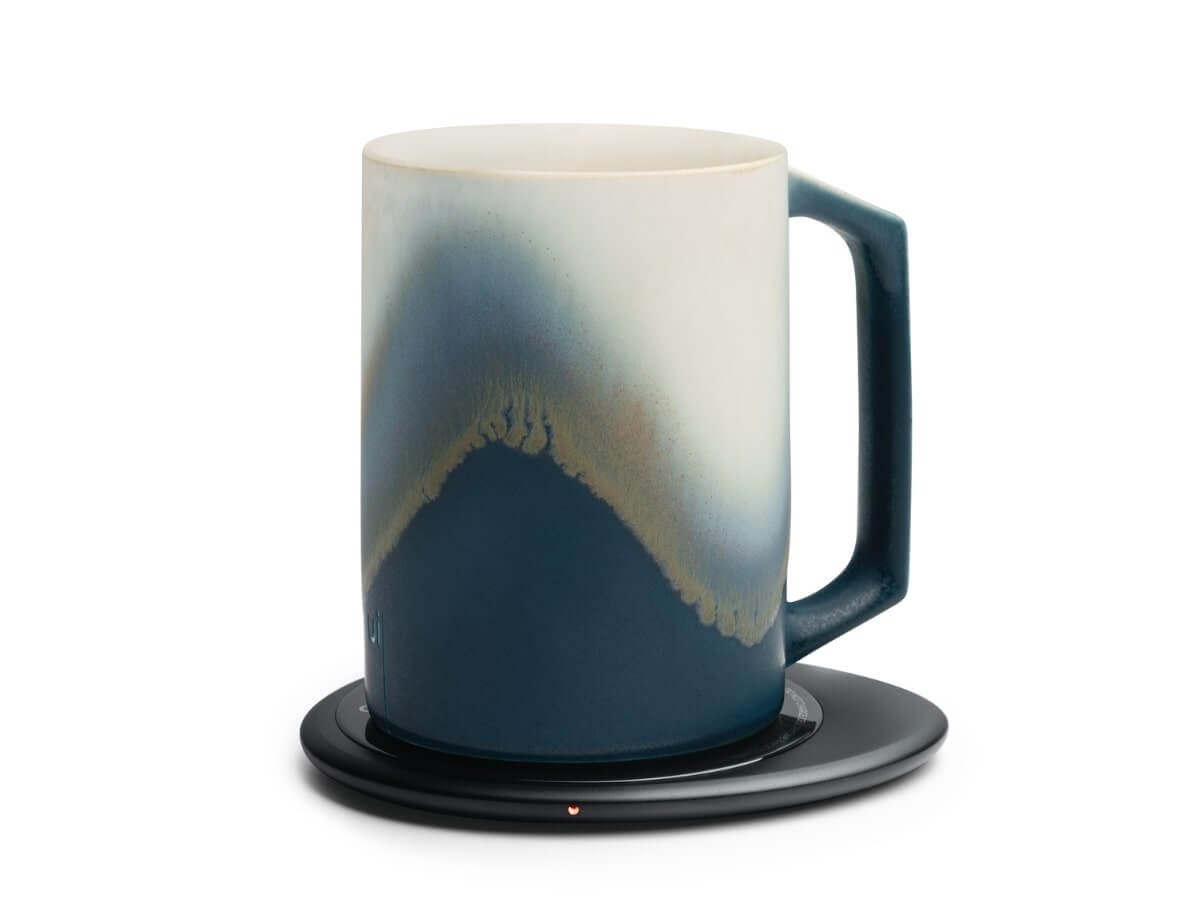 OHOM | Ui Artist Collection
Description
Details
Other Info
As Unique As You Are

Transcend the ordinary and indulge in the allure of the Artist Collection from OHOM. Beautifully handcrafted by skilled artisans, each mug is a testament to the beauty and uniqueness that can only be achieved through traditional craftsmanship.

Inspired by the symphony of hues found in nature, the Artist Collection showcases five dazzling finishes from ceramic artist Luo Xiao's "Dance of Radiance", utilising a distinctive fluid glaze technique that weaves together organic patterns and colours in such a way that no two mugs are exactly alike.

Retaining the signature self-heating system of the Ui Mug, the Artist Collection ensures your drink remains at optimal temperature to enhance your pleasure with each sip. Doubling as a wireless cell phone charging pad, OHOM seamlessly fuses traditional craftsmanship and modern-day convenience in an exceptionally elegant design.

Available in your choice of visually captivating colourway.

Features

From ceramist, Luo Xiao, and the renowned ceramic producing Jingdezhen region, the Artist Collection is a testament to traditional craftsmanship; each mug a a unique canvas finished with the creativity of skilled hands.

Made of high-density vitrified porcelain for many years of enjoyment.

Porcelain mug contains inlaid metallic particles to empower induction heating with the included OHOM Pad; keeps drinks at optimal drinking temperature of 55°C/130°F.

Dual-purpose OHOM Pad wirelessly charges compatible cell phones; Artist Collection features special edition Champagne Gold and Charcoal Black pads.

Mug is dishwasher safe.

OHOM Pad is equipped with overheat protection auto-off safety feature.

Contents

Ui Artist Collection Mug, Qi charging pad, power adaptor & USB-C cable.

Dimensions

Mug — 12.8oz | 385ml — ø3.3" x W4.5" x H4.4" | ø8.4cm x W11.4cm x H11cm

Specifications

OHOM Pad — Max output: 22W (Mug heating); 15W (Android); 7.5W (Apple)

Designed in Los Angeles

Precision made in China

About OHOM

Established in 2014, OHOM—which stands for Open Heart, Open Mind; pronounced /ōm/ as with the Tibetan monk chant—is a design firm with a passion for crafting products that seamlessly blend the timeless allure of tradition with cutting-edge technology to infuse everyday objects with a touch of elegance and modern-day convenience.

Committed to sustainability as a guiding principle, OHOM focuses on the use of environmentally friendly materials in their development of simple, functional and aesthetically pleasing items, and backs their designs with an industry-leading warranty. With OHOM, you're not just purchasing a product; you're embracing a lifestyle that celebrates artistic excellence and cherishes environmental consciousness.

Use & Care

Mug is dishwasher safe; do not microwave as the mug contains inlaid metallic particles to empower induction heating from the pad.

For all other use & care directions, please refer to the included user guide, or refer to OHOM's FAQ Page.

Warranty

OHOM products carry a 10-year limited manufacturer's warranty on ceramics, and 1-year on electronic parts.