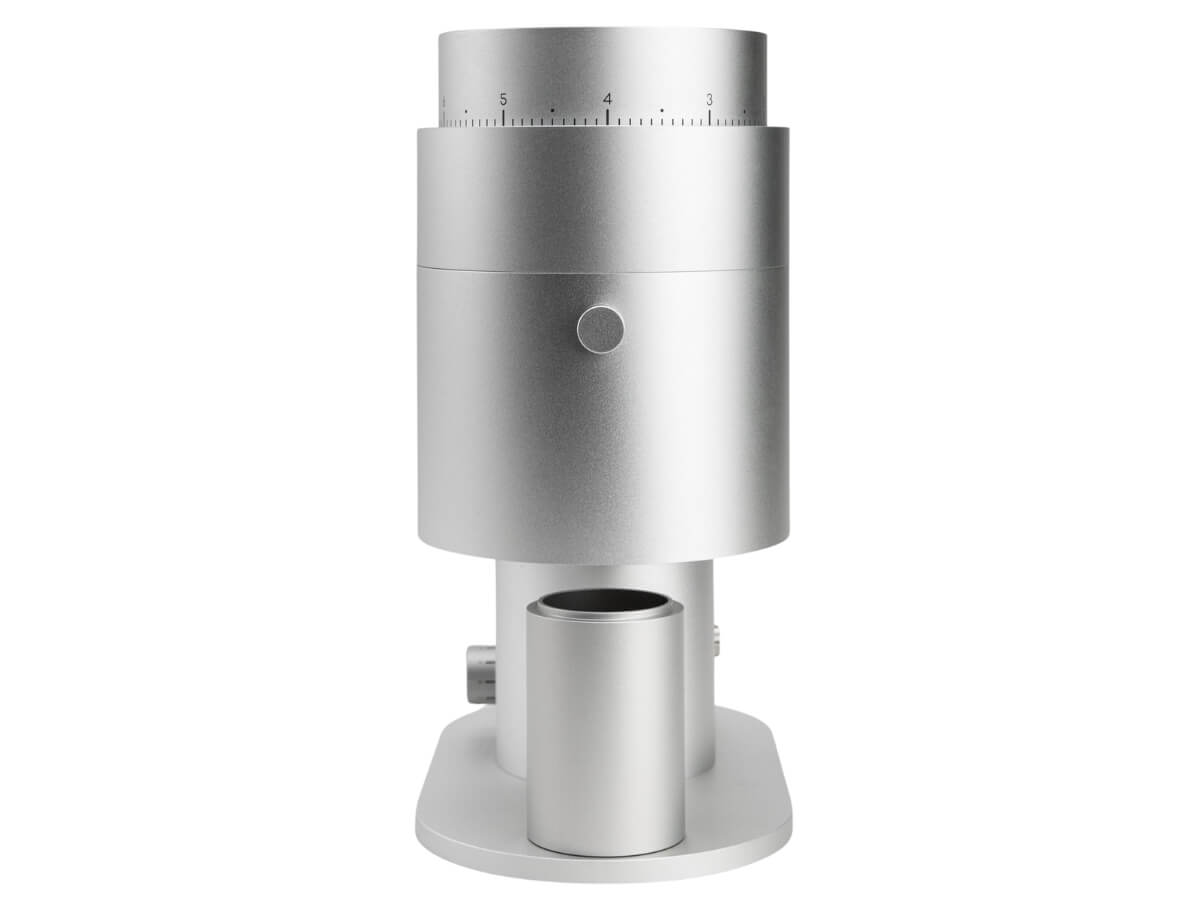 Option-O | Lagom 01 Grinder
Description
Details
Other Info
Made precisely for delicious coffee

Building upon their extensive experience, Option-O has incorporated all the best elements of their design philosophy and taken them a step further to make the Lagom 01 their flagship model and the embodiment of their pursuit of uncompromising performance and a seamless user experience.

Aligned by design, with precision engineered components machined to a tolerance of <0.01mm and a unibody grind chamber with minimised tolerance stack, the Lagom 01 undergoes stringent QC checks to ensure it delivers exceptional results out of the box.

Option-O's most workflow optimised design, the Lagom 01 features high-precision stepless grind adjustment with zero-calibration system, toolless disassembly, variable RPM control, auto-purge and auto-off functions, ultra-low retention with static reduction, an improved chute knocker, and a new magnetically aligned modular platform design that prioritises the adaptability of portafilter holder and grind cup.

Thoughtfully engineered for reliability and ease of maintenance, the Lagom 01 is built to withstand the test of time and to provide dependable performance in any setting.

Available in Silver or Black, with your choice of 102mm blind-mount or 98mm screw-mount Mizen Omni Burrs; optimised for modern light roasts (see Details section for more information).

Features

Precision engineered and CNC machined to tolerances of <10 microns (0.01mm) with minimised tolerance stack for maintained alignment by design and exceptional results out of the box.

Option-O's in-house developed Mizen Omni Burrs are specially optimised for full-range performance with modern light roasts, with focus on improving flavour separation to yield a sweet & juicy cup profile: available in XL 102mm Blind Burr format to further reduce retention and enhance performance with an 18% increase in surface area, or in 98mm Screw-mount format for those who may prefer to have access to other 98mm burr options (NOTE: Burr carriers for the 102mm and 98mm are not cross-compatible)

Streamlined single-dosing workflow, with ultra-low retention (<0.1g), and intelligent auto-off and auto-purge RPM ramp up features; simple on/off button can also be used in manual mode.

New static reduction technology and magnetic-assisted chute knocker mechanism further minimise retention and yield a smoother and more efficient dosing process.

Zero calibration system provides improved visibility of grind settings and an extra-layer of user-friendliness.

Modular platform is designed for utmost adaptability and versatility; accommodates the included magnetically-aligned 58mm portafilter holder or grind cup, and can accommodate various aftermarket accessories to integrate into any workflow.

Robust build quality with industrial grade components and a powerful motor with smart auto-torque setting provides consistent RPM and yields the highest grind uniformity.

Grind chamber can be easily accessed for cleaning with toolless disassembly; reassembly and return to previous grind setting is a seamless process.

Contents

Lagom 01 Grinder with selectable burrs/burr carrier

Magnetic accessories platform

Magnetic-attach portafilter holder (for 58mm basket)

Magnetic-attach multi-purpose grind cup, CNC machined from aluminium and anodised to provide nonstick surface

58mm magnetic dosing funnel

Materials

6061-T6 CNC machined and anodised aluminium.

Specifications

1300W brushless DC motor with adjustable RPM (200-1700 RPM)

Capacity: Funnel holds up to 300g, and beans can be fed continuously for larger batch brewing

Grind throughput: Up to 6g/sec at espresso setting

Dimensions: L11.8" x W6.7" x H14.2" | L30cm x W17cm x H36cm

Weight: 15.3kg

Engineered in Australia

Made in China

About Option-O

Comprised of a team of engineers-turned-coffee-enthusiasts, Option-O has a simple mission: to create beautiful grinders that last and make delicious coffee.

Based in Australia's coffee capital, Melbourne, with their own independently operated workshop in China, Option-O's end-to-end control over the design and manufacturing process allows them to ensure that each and every grinder they produce meets their lofty standards and will satisfy even the most demanding of baristas.

Use & Care

Regular cleaning will keep your grinder running smoothly and tasting fresh. Burrs are easily accessed, and can be cleaned with a dry brush and/or commercially available grinder cleaning pellets.

For further info, please refer to the Lagom 01 User Guide, or contact us.

WARRANTY

The Lagom 01 carries a 1-Year limited manufacturer's warranty, and guarantee of lifetime support. Per their singular guiding pillar, Option-O grinders are made to last and should provide high-quality grinding for many years to come. Should you encounter any issues or concerns with your grinder, please contact us and we'll be happy to get you back up and running.