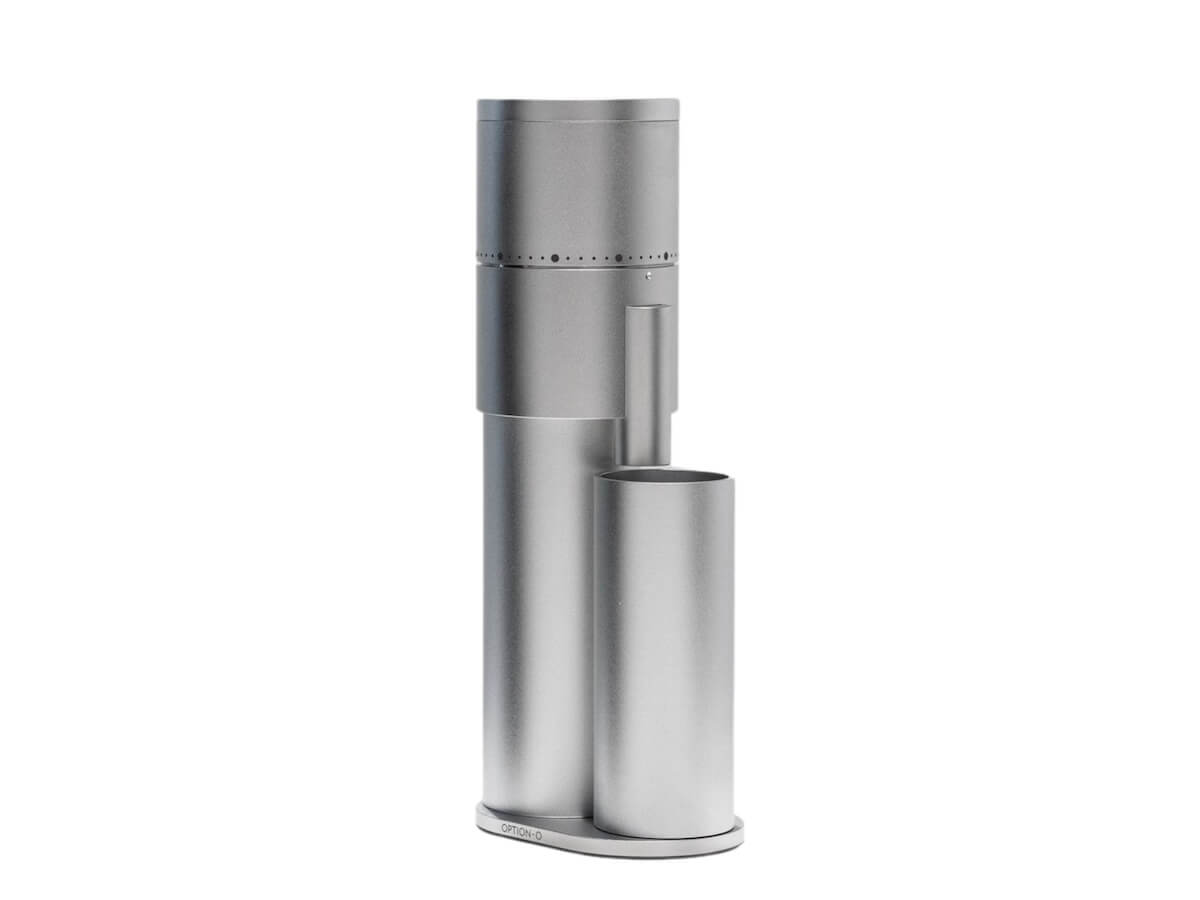 Option-O | Lagom Mini
Description
Details
Other Info
Not too little, not too much

Splendidly minimal, the Option-O Lagom Mini packs premium performance into a super compact and lightweight frame. Streamlined for single-dosing and optimised for filter brew grinding, the Lagom Mini features stepless adjustment and a zero retention design to satisfy even the most discerning home brewers.

Built for utmost ease of use—and travel-friendly—with an all-metal construction, luscious anodised finish, and magnetically aligned grounds cup, Option-O's Lagom Mini is designed to provide years of beautifully simple enjoyment.

Available in your choice of Black or Silver, and with your choice of 48mm Moonshine or Obsydian Burrs.

Now shipping post July 2022 models, with revised (non-numbered) adjustment dial, reinforced gear components, and Option-O logo on the baseplate.

Features

Small but mighty: DC motor is powerful enough for light roast specialty coffee, with the market's most compact design.

Designed to serve as a dedicated filter grinder, the Lagom Mini can also satisfy for occasional/light-duty espresso use.

Unibody design and all-metal construction; CNC machined with extremely tight tolerances for high-precision.

Streamlined single-dosing workflow with stepless adjustment and zero retention design.

Magnetically aligned grounds cup.

Choice of 48mm TiCN-coated Obsydian Burrs or Option-O's 48mm Moonshine Burrs; both produce an excellent grind suitable for filter and espresso use, with the Moonshine burrs yielding fewer fines and a slightly narrower particle distribution for greater clarity in the cup, while the Obsydian burrs are suggested for those who prefer higher body and a more blended profile.

Designed for 100-240V, the Lagom Mini is world-travel friendly (with an outlet adaptor).

Materials

CNC machined and anodised aluminium.

Specifications

Capacity: Funnel holds up to 35g, and beans can be fed continuously for larger batch brewing

Grind throughput: ~0.8g/second at medium-fine settings.

Dimensions: W2.55" x D3.74" x H9.44" | W65mm x D95mm x H240mm

Weight: 1.5kg

Engineered in Australia

Made in China

About Option-O

Comprised of a team of engineers-turned-coffee-enthusiasts, Option-O has a simple mission: to create beautiful grinders that last and make delicious coffee.

Based in Australia's coffee capital, Melbourne, with their own independently operated workshop in China, Option-O's end-to-end control over the design and manufacturing process allows them to ensure that each and every grinder they produce meets their lofty standards and will satisfy even the most demanding of baristas.

Use & Care

Regular cleaning will keep your grinder running smoothly and tasting fresh. Burrs are easily accessed without tools, and can be cleaned with a dry brush and/or commercially available grinder cleaning pellets.

For further info, please refer to the Lagom Mini User Guide, or contact us.

Warranty

Per their singular guiding pillar, Option-O grinders are made to last and should provide high-quality grinding for many years to come. Should you encounter any issues or concerns with your grinder, please contact us and we'll be happy to get you back up and running.