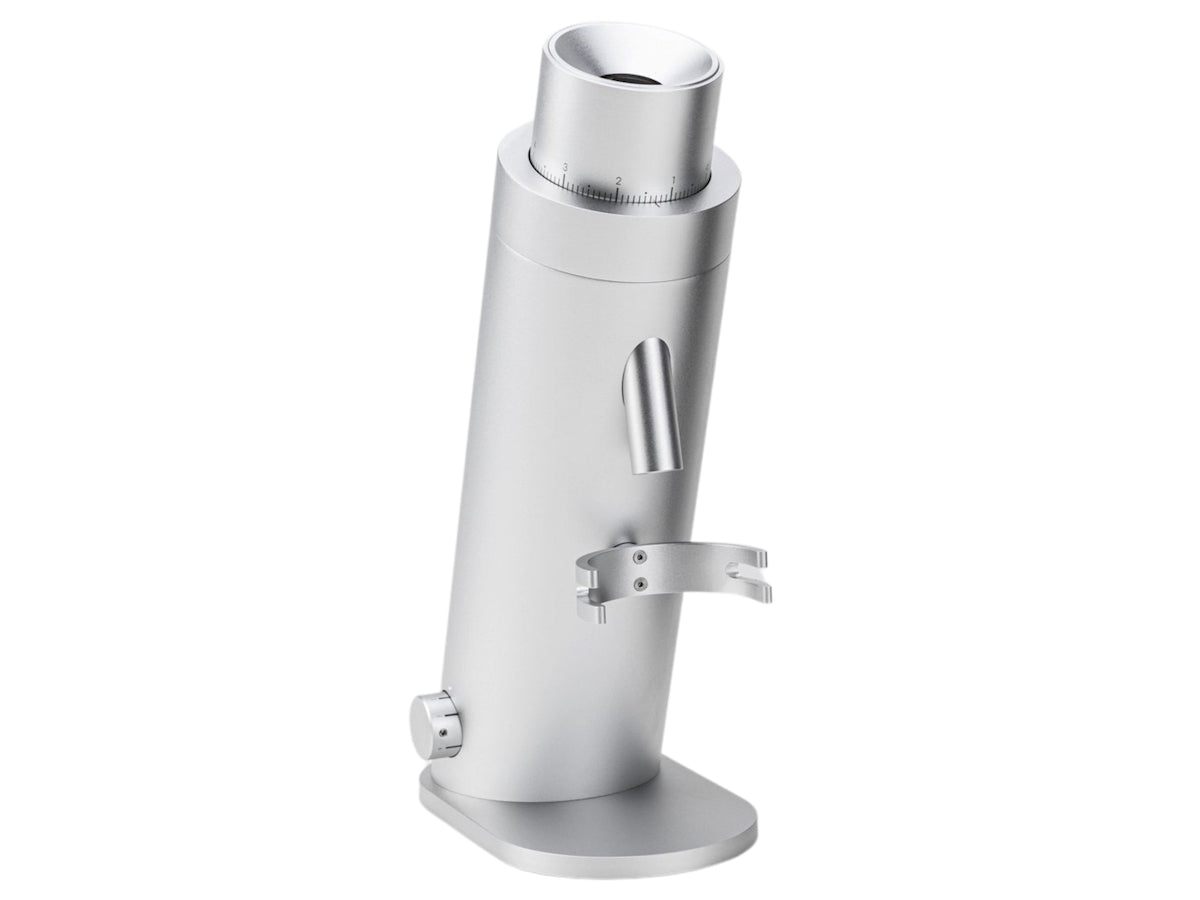 Option-O | Lagom P64 Grinder
Description
Details
Other Info
Not too much, Not too little

Robust, flexible, powerful and elegant, The Lagom P64 flat burr grinder from Option-O is engineered to help you make the best possible coffee, no matter your preferred brew method or roast level.

Aligned by design with 64mm flat burrs, high-precision stepless adjustment and variable RPM control, the Lagom P64 provides incredible consistency and unparalleled control with full-range grinding capability.

Streamlined for single-dosing with a zero retention design and high quality all-metal construction, Lagom is easy to use and built to provide many years of premium performance and enjoyment.

Available in Silver or Black, and with your choice of Burr Selection: Option-O Mizen Omni, SSP Espresso / High Uniformity, SSP Multi-Purpose / Unimodal Espresso, or SSP Brew / Unimodal v1.

See here for more detail regarding burr selection.

Now shipping post August 2022 models, with revised dial and zero calibration system, magnetic portafilter dosing funnel and new VERSA Cup as standard inclusions.

Features

Unique unibody design and all-metal construction; CNC machined with extremely tight tolerances for high-precision and permanent alignment.

New numbered dial design allows for simple recalibration and re-zeroing to your burr touchpoint.

Grinding chamber can be easily accessed for cleaning; reassembly and return to previous grind setting is a seamless process.

Flexible and user-customisable for premium performance at any grind setting and for any roast level.

Streamlined single-dosing workflow, with a unique bean feeding design and specialised grind path for optimal flat burr performance with minimal retention.

Robust build quality with commercial grade components and a powerful 300W brushless DC motor to provide decades of service life

Contents

Lagom P64 Grinder with your choice of burr set

Integrated portafilter fork (58mm)

58mm magnetic dosing funnel

VERSA magnetic transfer cup, CNC machined from aluminium and anodised to provide nonstick surface

Workflow accessories, including dosing cup, WDT tool and RDT spray bottle for your convenience

Materials

6061-T6 CNC machined and anodised aluminium.

Specifications

300W brushless DC motor with adjustable RPM (200-1400 RPM)

Capacity: Funnel holds up to 40g, and beans can be fed continuously for larger batch brewing

Grind throughput: 0.8g/sec up to 2.2 g/sec at espresso-setting

Dimensions: L8.2" x W5.1" x H15" | L21cm x W13cm x H38.1cm

Weight: 7.8kg

Engineered in Australia

Made in China

About Option-O

Comprised of a team of engineers-turned-coffee-enthusiasts, Option-O has a simple mission: to create beautiful grinders that last and make delicious coffee.

Based in Australia's coffee capital, Melbourne, with their own independently operated workshop in China, Option-O's end-to-end control over the design and manufacturing process allows them to ensure that each and every grinder they produce meets their lofty standards and will satisfy even the most demanding of baristas.

Use & Care

Regular cleaning will keep your grinder running smoothly and tasting fresh. Burrs are easily accessed, and can be cleaned with a dry brush and/or commercially available grinder cleaning pellets.

For further info, please refer to the Lagom P64 User Guide, or contact us.

Warranty

The Lagom P64 carries a 1-Year limited manufacturer's warranty. Per their singular guiding pillar, Option-O grinders are made to last and should provide high-quality grinding for many years to come. Should you encounter any issues or concerns with your grinder, please contact us and we'll be happy to get you back up and running.