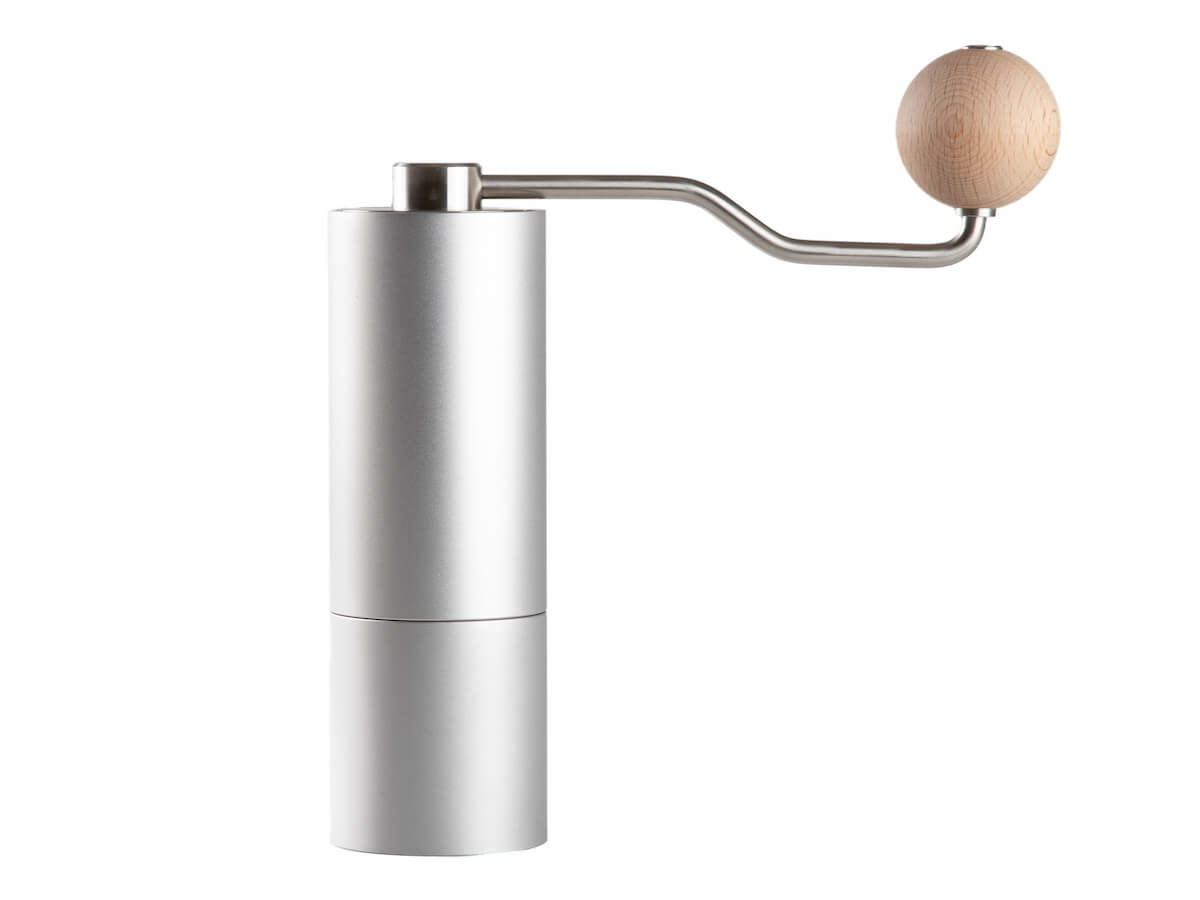 Option-O | REMI Precision Hand Grinder
Description
Details
Other Info
Brewers's Choice

Building off the successful design of its predecessor, the Helor 101, while introducing thoughtful upgrades and revisions, Option-O developed the renamed REMI Precision Hand Grinder to provide an incomparably luxurious experience.

Featuring a signature unibody aluminium frame with anodised exterior finish and beechwood pommel, REMI is engineered for permanent precision with a sleek aesthetic and improved ergonomics by way of its new magnetic grounds cup and roomier hopper.

Available with your choice of interchangeable Conventional (best suited for filter/immersion methods) or Contemporary (best suited for espresso use) burr sets.

* NOTE: Updated 2021 Conventional model now contains titanium nitride (TiN) coated burrs.

Features

Unibody design for permanent precision.

Stepless full-range adjustment with 0.5mm fine-pitch thread and self-locking adjustment dial.

Interchangeable 38mm burrs: Conventional burr for optimised performance in medium-to-coarse range (filter/immersion methods); Contemporary burr for optimised performance at finer settings (espresso use).

Magnetic grounds cup with 18 neodymium magnets for secure attachment and improved workflow.

Robust full-metal construction in a compact & lightweight design for ultra-portability.

Includes a silicone grip band, felt carrying case, and bearing cap pin tool for assembly/disassembly.

Materials

Aluminum body and catch cup; stainless steel crank handle, burrs & bearings; neodymium magnets; beechwood pommel; silicone grip band; felt carrying case.

Specifications

Dimensions (w. handle): ø2.15" x H7.35" x W6.8" | ø5.5cm x H18.7cm x W17.3cm

Capacity: 25-30g

Weight: 590g

Engineered in Australia

Made in China

About Option-O

Comprised of a team of engineers-turned-coffee-enthusiasts, Option-O has a simple mission: to create beautiful grinders that last and make delicious coffee.

Based in Australia's coffee capital, Melbourne, with their own independently operated workshop in China, Option-O's end-to-end control over the design and manufacturing process allows them to ensure that each and every grinder they produce meets their lofty standards and will satisfy even the most demanding of baristas.

Use & Care

Regular cleaning will keep your grinder running smoothly and tasting fresh. Burrs and inner mechanism should not be wet, and can be cleaned with a dry brush and/or commercially available grinder cleaning pellets.

For further info, please refer to the Remi Hand Grinder User Guide, or contact us.

Warranty

Per their singular guiding pillar, Option-O grinders are made to last and should provide high-quality grinding for many years to come. Should you encounter any issues or concerns with your grinder, please contact us and we'll be happy to get you back up and running.