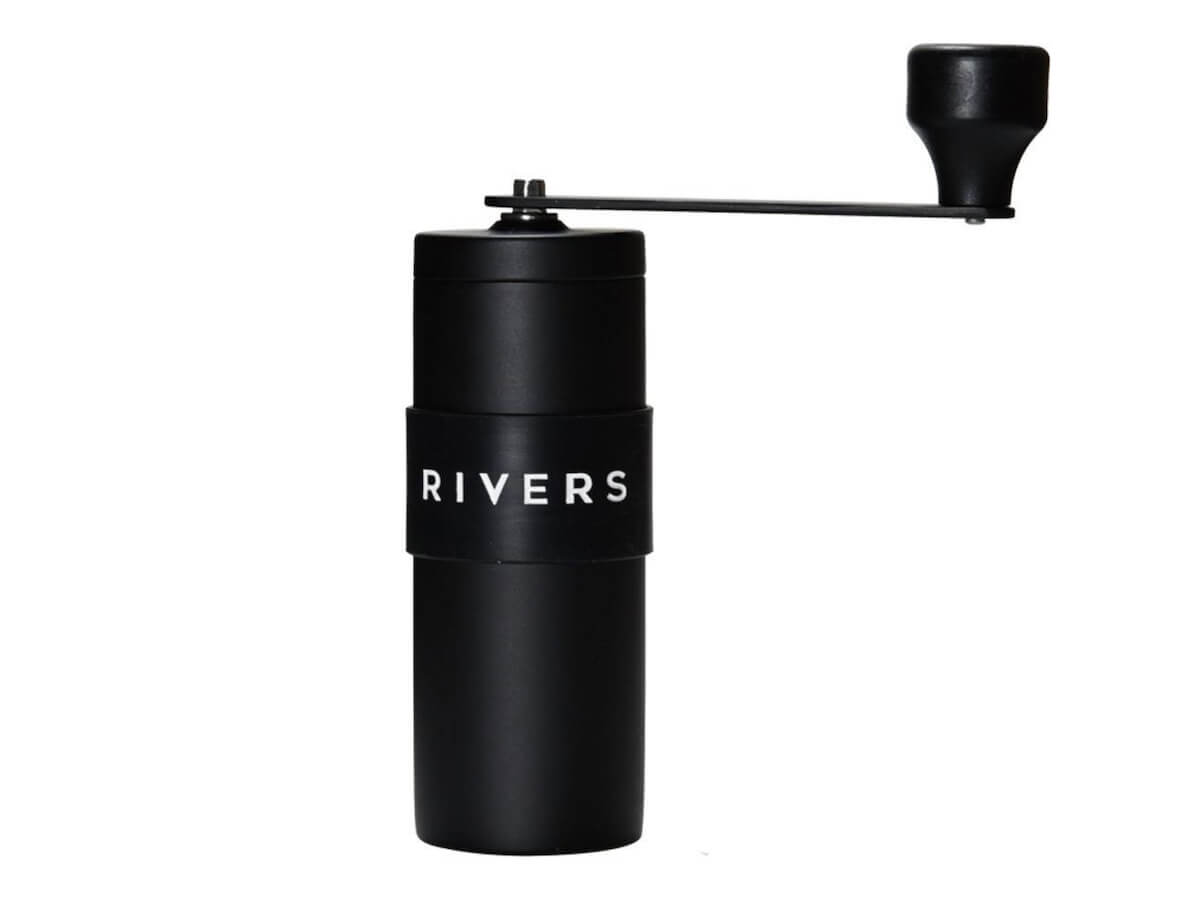 Rivers | Grit Grinder - Matte Black
Description
Details
Other Info
The Nitty-Gritty

Developed by ex-Porlex engineers, the Grit Grinder by Rivers houses precision ceramic burrs in a super compact design to provide a quality grind with ultra convenient portability.

Featuring a fixed outer burr for greater consistency, Grit's ceramic burrs produce minimal heat transfer during operation to preserve maximum flavour potential in your coffee. Durable and easy to clean, Grit empowers you to enjoy delicious coffee at home or anywhere you go.

Available in your choice of Silver (brushed stainless steel) or powder-coated Matte Black finish.

Features

Precision ceramic burrs, with fixed outer burr, provide a quality grind with consistency from fine to coarse.

Manual operation with ceramic burrs produces minimal heat transfer to the beans and preserves utmost flavour potential in your coffee.

Silicone grip band doubles as a mounting sleeve for the handle when not in use.

Durable and easy to clean; simply brush clean, or wash all parts with a mild unscented detergent to restore a pristine finish.

Materials

18-8 304 grade stainless steel body & handle shaft, ceramic porcelain burrs, polypropylene interior alignment mounts & handle grip, silicone band, iron threaded axle.

Specifications

Dimensions (w. handle mounted): ø2" x H6.4" x W5.1" | ø5.2cm x H21cm x W13cm

Dimensions (w. handle stored): ø2" x H6.4" | ø5.2cm x H16.2cm

Capacity: 20g

Weight: 230g

Made in Japan

About Rivers

With an upstream approach to design, Rivers develops products with acute attention to detail to subtly enhance your enjoyment of everyday activities.

With a focus on promoting the pleasures of an unplugged coffee experience in particular, Rivers combines playfulness and sophistication to create stylish goods that can help you find the fun in your daily ritual—at home or on the go.

Use & Care

Regular cleaning will keep your grinder running smoothly and tasting fresh. Simply wipe and/or brush clean with a non-abrasive bristle brush or cloth/sponge. For more thorough cleaning, soak all parts with a diluted mild/unscented detergent and wipe dry.