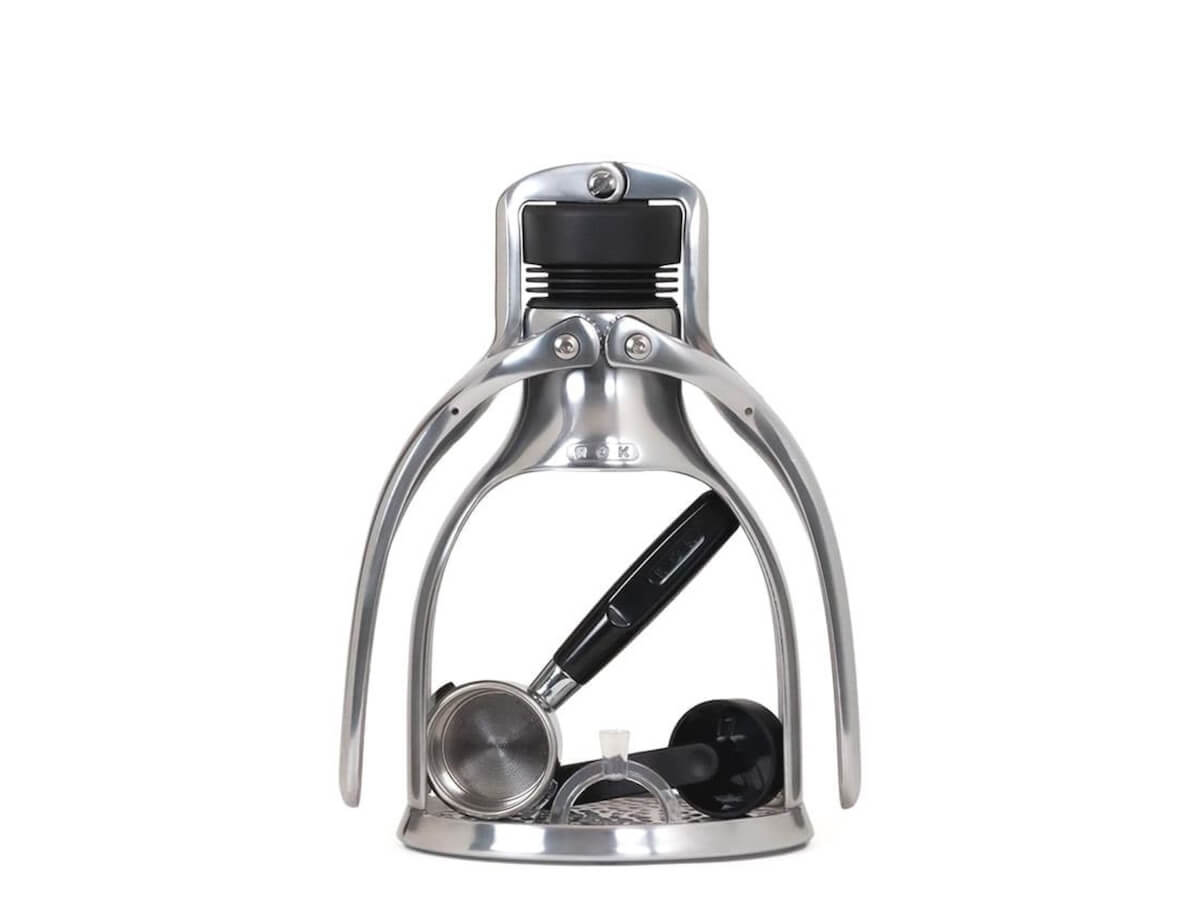 ROK | Espresso GC
Description
Details
Other Info
Feel the Coffee

Now easier than ever to handcraft quality espresso at home, ROK Espresso GC retains the timeless design of the original ROK Espresso Maker, with a totally re-engineered glass composite pressure chamber that delivers uncompromising performance.

The antithesis to one-button electric machines, ROK puts you in control—you choose the coffee, you select the grind, you provide the power. Simply add coffee & hot water, lift the arms, wrap your hands around the polished aluminium handles and experience the pleasure of using your own power to pull espresso just the way you like it.

Available in your choice of Classic (Chrome) or Black finish.

Features

Includes everything you need to brew a variety of espresso-based beverages anywhere you can boil water—no need for electricity; not locked in to pods or capsules.

Fully manual operation allows for total customisation of brewing variables.

17g portafilter basket brews a double-shot of espresso; use the included spout-splitter to pour two single shots instead.

Capable of producing 8-9 bars of pressure for true espresso extraction.

New glass composite brew chamber design provides superior thermal stability and produces same pressure as original with significantly less force, delivering even greater performance.

Smaller holes and locked-in placement of the overhauled silicone shower screen provide greater precision for a cleaner and more consistent extraction.

Built to last with high strength aluminium alloy and stainless steel.

Contents

Award-winning ROK espresso maker; portafilter; spout splitter; coffee spoon/tamp; dosing funnel; glass composite brew chamber/plunger: all together in a plastic-free recyclable gift box.

Dimensions

L8.75" x W5.125" x H11.5" | L22cm x W13cm x H29cm

Designed and Engineered in London

Made in China

About ROK

ROK is committed to supporting your personal coffee journey—exploring fresh grind, craft roasts and heading for the so-called 'God-shot' with a hands-on process that yields a more rewarding experience.

With sustainability of materials and methods as a guiding principle, ROK engineers products to last decades while minimising energy use: no unnecessary electric pumps or motors to wear out—instead harnessing simple mechanical advantage; no throwaway upgrade cycle, no wasteful coffee pods, and no wasteful packaging.

Use & Care

Please refer to ROK's YouTube channel for detailed use & care guides, or contact us.

Warranty

Made with engine grade metal, ROK is practically indestructible, which is why it comes with a 10-Year Guarantee on all metal parts.