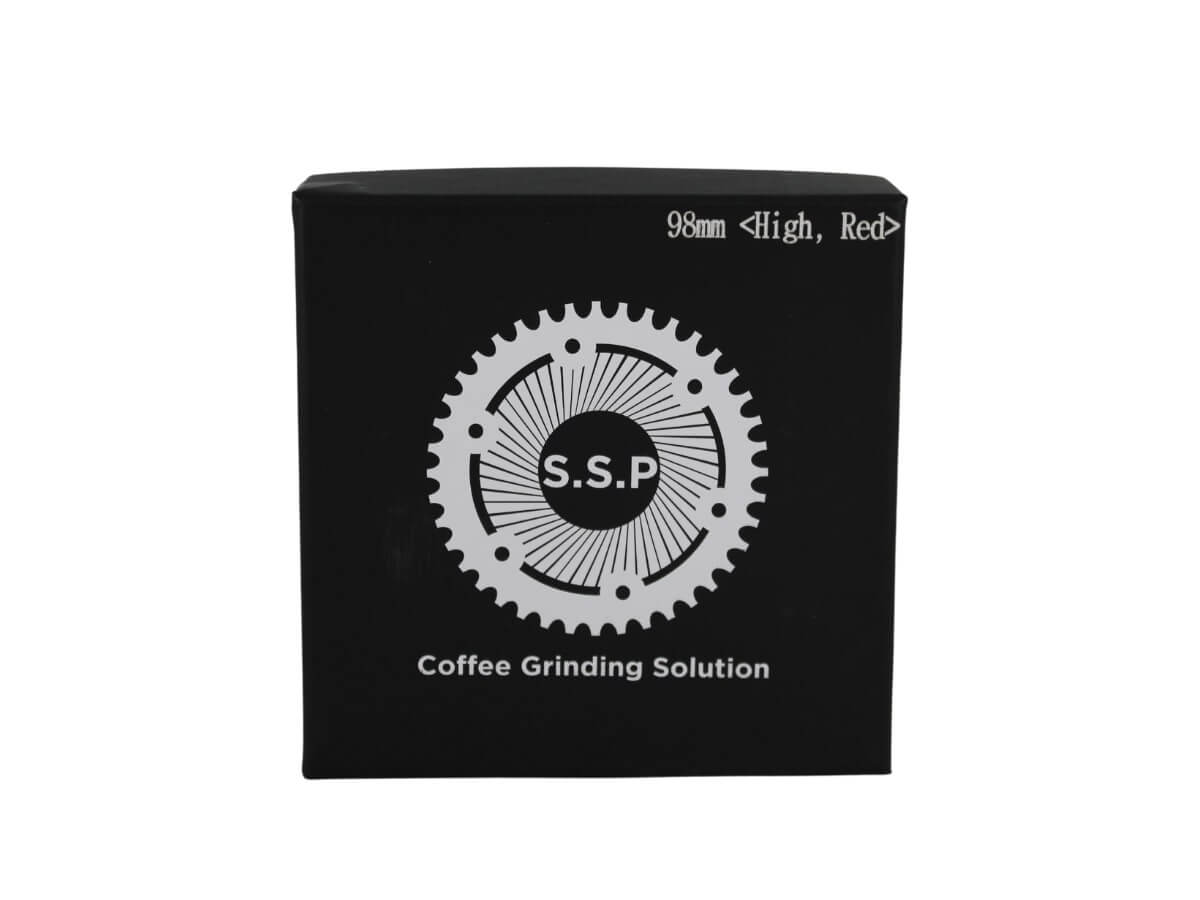 SSP | 98mm Flat Burrs
Description
Details
Other Info
Superior Speed & Precision

Improve your grind speed and extraction quality with SSP's 98mm Flat Burrs.

Precision engineered and CNC milled—or cast and finished with a CBN wheel in the case of the 'Lab Sweet' geometry—from tool steel, SSP burrs are designed to provide optimal particle size distribution to help unlock even greater potential in your brews.

Finished with your choice of Red Speed or Silver Knight coating to minimise heat-transfer and extend lifespan, SSP's 80mm flat burrs yield uncompromising performance and are available in your choice of cutting edge geometry to suit your brewing preferences:

High

Best suited for single-dose and lighter roasted espresso grinding, with a High-Uniformity bimodal particle size distribution that produces high-yield extractions and a clean profile in the cup.

Low

Best suited for high-volume shops and multi-purpose grinding for any roast degree, with a lower uniformity bimodal particle size distribution that produces a conventional style espresso and greater complexity at brewing range.

Ultra-Low

Best suited for brewing, cupping and batch grinding (not recommended for espresso), with a unimodal particle size distribution and ultra-low fines production to express greatest clarity of flavour at filter range.

Features

Red Speed (TiAlCN; Titanium Aluminium Carbon Nitride) and Silver Knight (DLC; Diamond-like Carbon) coatings increase friction coefficient value and surface hardness, promoting a faster grind and extending lifespan of the burrs; rated for up to 5000kgs.

The choice of surface coating does not have a significant impact on grind distribution, as this is primarily dictated by geometry, with very subtle differences in performance:

Red Speed (slightly higher friction coefficient) is generally preferred for espresso grinding, while Silver Knight (slightly lower friction coefficient and harder surface) is generally preferred for filter/bulk grinding, with subtly lower fines production for enhanced clarity in the cup.

Compatible with the Mahlkönig EK43 or Option-O Lagom P100 grinder.

Made in South Korea

About SSP

Family owned & operated since 1991, Sung Sim Precision has established themselves as leaders in the development and fabrication of high-performance coffee grinding burrs.

Driven by the pursuit of perfection in your cup, SSP is a pioneer of innovation, and specialises in the customisation of flat burrs in particular. Through iterative design and obsessive testing, their burrs have become recognised as top-of-the-line in terms of grind uniformity and overall cup quality.