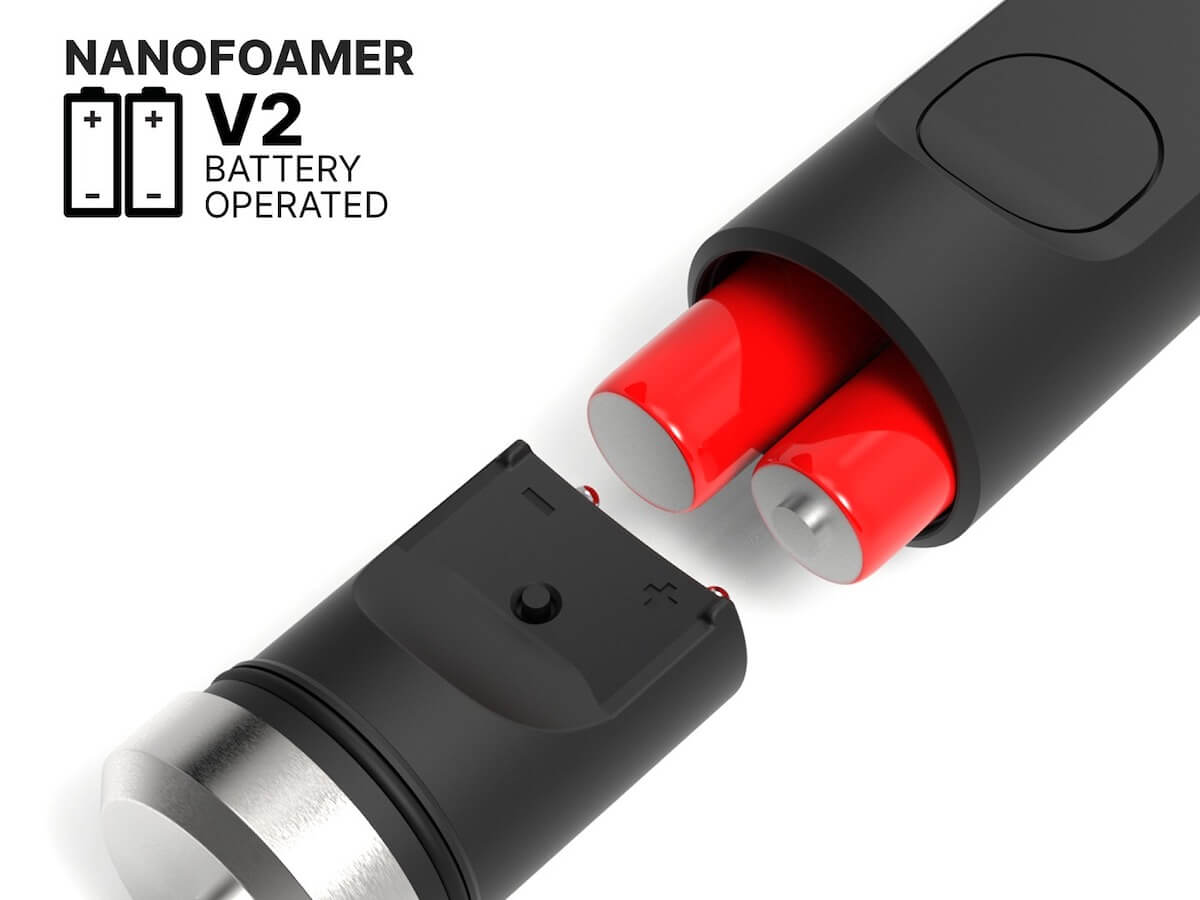 Subminimal | NanoFoamer - V2 / Lithium
Description
Details
Other Info
Superfine microfoam in seconds

Completely reengineered with numerous improvements and a more powerful rechargeable model, the V2 / Lithium NanoFoamer from Subminimal empowers you to create café-quality microfoamed milk in seconds.


The perfect addition to your manual espresso or moka pot ritual, the NanoFoamer spins bubbles through nano-screens at ultra-high speed, breaking those bubbles down to produce velvety milk that blends perfectly with your espresso.

Compact and easy to use, the new and improved NanoFoamer makes it simpler than ever to create a better tasting, better looking, and better textured cortado, flat white, cappuccino or latte.

Features

V2 features various design updates and improvements, including:

Stronger construction, improved internal build quality and tighter motor tolerances; together with an elegant new battery housing, the net result is reduced vibrations and a more stable shaft.

A more powerful and more reliable motor, with brushed stainless steel housing for a more premium experience.

Upgraded on/off digital switch, allowing you to focus on the foam while holding the NanoFoamer as lightly as a pencil.

New clip-on NanoScreens ditch the pressure fit system for a satisfying snap-fit, ensuring a stronger hold on the impeller while simultaneously preventing buckling over time.

Upgraded polycarbonate impeller is more resistant to the stresses of the fast rotations in hot liquids, and is easily replaceable in the event your NanoFoamer takes an unfortunate tumble.

Improved waterproofing for a worry-free cleanup.

Auto shut off Safety PCB engages after ninety seconds to prevent the ultra-fast motor from overheating the housing.

Lithium rechargeable model features a powerful 3.7V 1200Mah lithium-ion battery; this NanoFoamer is so powerful that Subminimal had to give it a dual-speed option via its multi-touch digital switch.

Includes two different nano-screens (fine & superfine) for added control over milk texture; can also be used without a screen to create normal foam or for mixing drinks.

Keep your NanoFoamer within reach with the self adhesive wall mount stand.

The protective case keeps the shaft, impeller, and nano-screens protected inside your kitchen drawer or during transport.

V2 model requires 2 x AA batteries; approximately 60 drinks can be made with one set of batteries, and rechargeable batteries are recommended.

Lithium rechargeable model features four LEDs to indicate battery level, with an included USB-C connector.

Materials

NanoFoamer is made with FDA & CE Compliant food-grade materials.

Made in China

About Subminimal

Subminimal was started by Dominic Symons with the mission to create simple, easy to use coffee products that don't compromise on quality or experience. They believe good design is powerful, and great coffee is essential in exploring new ways to create.

Use & Care

Simply spin the impeller and nano-screen under warm water to rinse clean after use; spin in a glass of soapy water for more thorough cleaning.

Please refer to Subminimal'sQuickstart Guide for usage details.